2014-Sustainable Industrial Processing Summit
SIPS 2014 Volume 2: Mineral Processing
| | |
| --- | --- |
| Editors: | Kongoli F |
| Publisher: | Flogen Star OUTREACH |
| Publication Year: | 2014 |
| Pages: | 446 pages |
| ISBN: | 978-1-987820-04-1 |
| ISSN: | 2291-1227 (Metals and Materials Processing in a Clean Environment Series) |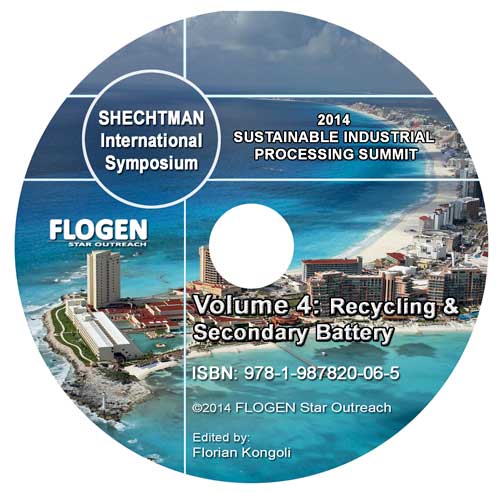 CD shopping page
Effect of different slimes on iron ore flotation performance

Antonio Peres1; Michelle Marques2;
1ENGINEERING FACULTY FEDERAL UNIVERSITY OF MINAS GERAIS, Belo Horizonte, Brazil; 2VALE, Nova Lima, Brazil;
Type of Paper: Regular
Id Paper: 175
Topic: 2

Abstract:

The harmful effect of slimes on iron ore flotation performance is well known, but understanding the mechanism of interaction with the ore is quite complex. Thus, tests were carried out with itabirite ore in the presence of different concentrations of slimes presenting different mineralogical compositions in an attempt to explain the effect on the flotation process. Three samples of ores and four samples of distinct slimes were selected. The results showed that the slimes consisting mainly of hydrated minerals had the least influence on the flotation performance and the slime with the highest content of alumina, titanium, and manganese caused the greatest impact on flotation, especially on its own ore. Analyzing the surface area of the samples, the zeta potential of the slime and the results of flotation, it was possible to conclude that these features are not the factors responsible for changes in the grades of silica in the concentrate, since for all tests with similar amounts of slime, the values for the specific surface area and the zeta potential were similar for all slurries under investigation at the flotation pH. Understanding the behavior of slimes is important for the yield is increased when flotation accepts ultrafines.

Keywords:

Iron ore flotation, slimes, specific surface area


Full Text:

Click here to access the Full Text

Cite this article as:

Peres A and Marques M. Effect of different slimes on iron ore flotation performance. In: Kongoli F, editors. Sustainable Industrial Processing Summit SIPS 2014 Volume 2: Mineral Processing. Volume 2. Montreal(Canada): FLOGEN Star Outreach. 2014. p. 189-198.