2014-Sustainable Industrial Processing Summit
SIPS 2014 Volume 2: Mineral Processing
| | |
| --- | --- |
| Editors: | Kongoli F |
| Publisher: | Flogen Star OUTREACH |
| Publication Year: | 2014 |
| Pages: | 446 pages |
| ISBN: | 978-1-987820-04-1 |
| ISSN: | 2291-1227 (Metals and Materials Processing in a Clean Environment Series) |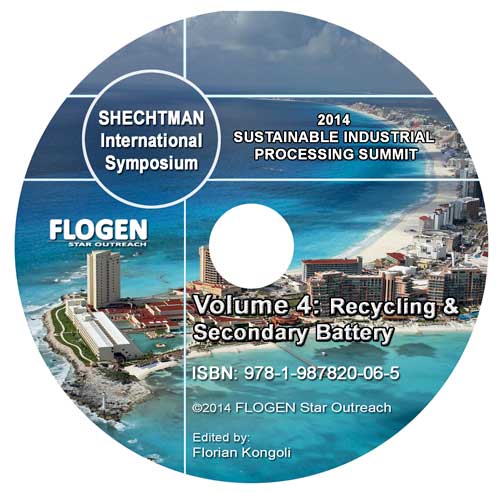 CD shopping page
The treatment of high grade chromium ores in Albania

Genc Demi1;
1FACULTY OF GEOLOGY AND MINES, Tirana, Albania;
Type of Paper: Regular
Id Paper: 217
Topic: 2

Abstract:

Actual annual production of high grade chromium ores suitable to be treated in metallurgy in Albania is about 270 000 ton. The Cr2O3 content varies from 32% to 48%. Only about 100 000 ton per year are treated in Albania for ferro chromium production, the other quantity of about 170 000 ton per year is exported mainly to China. Chromium ore produced in the biggest mine of Albania, in Bulqiza, is treated by hand picking in particle size -300 + 70 mm, separating chromium product with 42% Cr2O3 content. The fractions under 70 mm contain 32 % Cr2O3 for the high dilution during mining underground. The heavy media separation plant in Klosi is processing the fractions -70 mm + 10mm to upgrade chromium product acceptable in metallurgy for ferro chromium production and it is studying the possibility of crushing and treating of all mine production. The flow sheet and technological economic evidences of this plant are described in the present paper aiming profit calculation of mineral processing of high grade chromium ores that need upgrading to be used in metallurgy for ferro chromium production. Different parts of chromium body in Bulqiza mine have different characteristics to be upgraded and need a certain separation density of heavy media separation. The used methods of mineral processing include testing in industrial scale to find optimal parameters of heavy media separation created with ferrosilicon. It is concluded that chromium ores with about 32%-36% Cr2O3 content can be upgraded to 36-42% Cr2O3 content product in drum heavy media separation with recovery of Cr2O3 over 90% against feed in the drum.

Keywords:

Chromium, Media, Grade


Full Text:

Click here to access the Full Text

Cite this article as:

Demi G. The treatment of high grade chromium ores in Albania. In: Kongoli F, editors. Sustainable Industrial Processing Summit SIPS 2014 Volume 2: Mineral Processing. Volume 2. Montreal(Canada): FLOGEN Star Outreach. 2014. p. 267-274.