2014-Sustainable Industrial Processing Summit
SIPS 2014 Volume 2: Mineral Processing
| | |
| --- | --- |
| Editors: | Kongoli F |
| Publisher: | Flogen Star OUTREACH |
| Publication Year: | 2014 |
| Pages: | 446 pages |
| ISBN: | 978-1-987820-04-1 |
| ISSN: | 2291-1227 (Metals and Materials Processing in a Clean Environment Series) |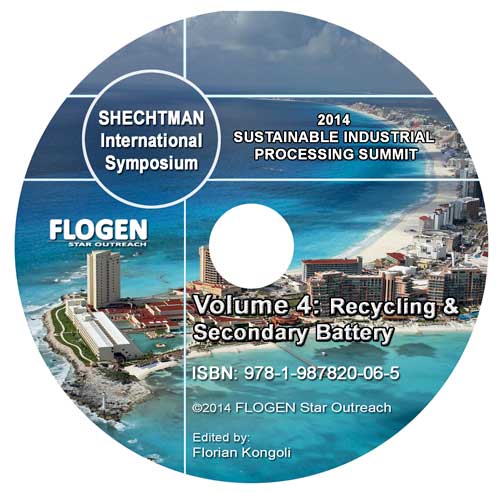 CD shopping page
Mineral paste production from phosphate rock tailings

Andre Carlos Silva1; Elenice Maria Schons Silva1; Juarez Goncalves Mesquita2; Joao Paulo Arruda1;
1UNIVERSIDADE FEDERAL DE GOIAS, Catalao, Brazil; 2VALE FERTILIZANTES, Catalao, Brazil;
Type of Paper: Regular
Id Paper: 27
Topic: 2

Abstract:

Nowadays, the mineral processing tailings disposal is a big problem due to the environmental degradation produced. The use of tailings dams is a globally used solution, but it generates very large impacted areas where soil, fauna and flora are equally suppressed. The present work proposes the mineral paste production with the tailings from phosphate rock in two stages. The first one was composed by the free settling of the material in presence of industrial flocculants. The second one was composed by the tailing filtration using a geotextile as filtration media. The used tailing samples were produced from Anglo American Fosfato Company, Ouvidor/GO unit. The results found were satisfactory for mineral paste production with solid grade around 35%.

Keywords:

filtering; sedimentation; geotextile; thickening; mineral paste


Full Text:

Click here to access the Full Text

Cite this article as:

Silva A, Silva E, Mesquita J, Arruda J. Mineral paste production from phosphate rock tailings. In: Kongoli F, editors. Sustainable Industrial Processing Summit SIPS 2014 Volume 2: Mineral Processing. Volume 2. Montreal(Canada): FLOGEN Star Outreach. 2014. p. 175-188.