2014-Sustainable Industrial Processing Summit
SIPS 2014 Volume 2: Mineral Processing
| | |
| --- | --- |
| Editors: | Kongoli F |
| Publisher: | Flogen Star OUTREACH |
| Publication Year: | 2014 |
| Pages: | 446 pages |
| ISBN: | 978-1-987820-04-1 |
| ISSN: | 2291-1227 (Metals and Materials Processing in a Clean Environment Series) |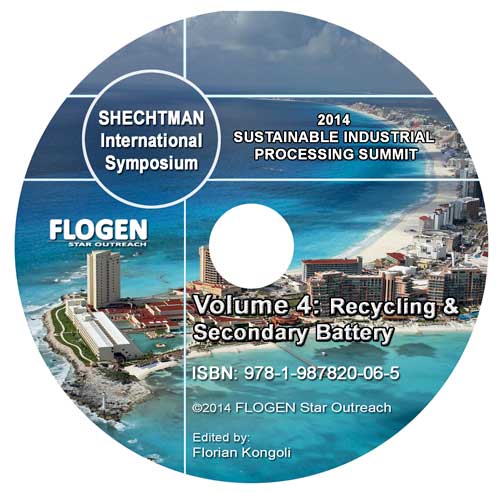 CD shopping page
New hydrometallurgical solutions for stainless steel dust treatment

Olof Forsen1; Jari Aromaa1; Antti Kekki2; Anna Stefanova2;
1AALTO UNIVERSITY, Espoo, Finland; 2RESEARCHER, Espoo, Finland;
Type of Paper: Plenary
Id Paper: 400
Topic: 2

Abstract:

In the process of stainless steel production using ferrochrome, electric arc furnace melting and argon-oxygen decarburization 10-20 kg of dusts per ton of steel are produced. In addition, the final rolling and pickling stages produce significant amounts of metal-rich wastes and acid sludge. The dusts are usually treated by pyrometallurgical methods, such as plasma processing or Waelz kiln. Hydrometallurgical methods have been developed, especially for the recovery of zinc from Electric Arc Furnace (EAF) dusts. Most of the research has been focused on treatment of EAF dust from production of unalloyed steel. A new concept has been developed to selectively leach out zinc from the dusts, enabling the remaining iron, nickel and chromium compounds to be recycled to melting. Using either a strong alkaline solution or strong acid solution, zinc can be dissolved. Factors affecting the leaching efficiency have been determined. Mineralogical factors limiting the zinc dissolution have been determined and pre-treatment methods have been developed. Using the optimal conditions, the zinc level in the treated dust has been in the order of 0.1 wt-% allowing recycling of the dust.

Keywords:

stainless steel dust, zinc removal, alkaline leach, acid leach, recycling


Full Text:

Click here to access the Full Text

Cite this article as:

Forsen O, Aromaa J, Kekki A, Stefanova A. New hydrometallurgical solutions for stainless steel dust treatment. In: Kongoli F, editors. Sustainable Industrial Processing Summit SIPS 2014 Volume 2: Mineral Processing. Volume 2. Montreal(Canada): FLOGEN Star Outreach. 2014. p. 245-260.