2014-Sustainable Industrial Processing Summit
SIPS 2014 Volume 7: Energy Production, Environmental & Multiscale
| | |
| --- | --- |
| Editors: | Kongoli F |
| Publisher: | Flogen Star OUTREACH |
| Publication Year: | 2014 |
| Pages: | 528 pages |
| ISBN: | 978-1-987820-09-6 |
| ISSN: | 2291-1227 (Metals and Materials Processing in a Clean Environment Series) |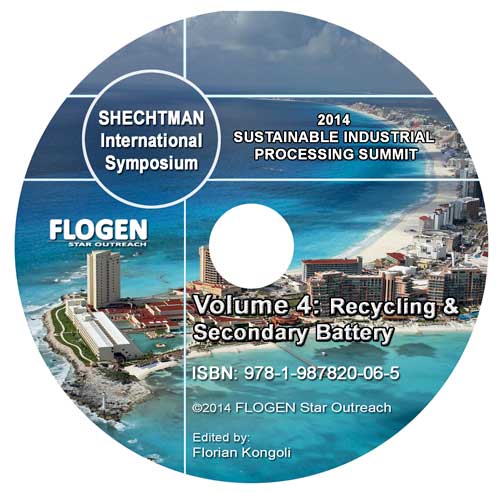 CD shopping page
Investigation on Clean Recycling Arsenic from the High-arsenic Dust

Yu Yi1; Xueyi Guo1; Dong Li1; Jing Shi1;
1CENTRAL SOUTH UNIVERSITY, Changsha, China;
Type of Paper: Regular
Id Paper: 112
Topic: 8

Abstract:

The high-arsenic dust is produced from the lead-antimony mine in pyrometallurgical process and it contains a large amount of valuable metals, such as lead, antimony and indium. Since the composition is complex and there is a high arsenic content in high-arsenic dust along with the strict environmental protection, the current main processing ways are stockpiling. This paper studies the arsenic extraction from high-arsenic dust by clean wet extraction. The hydrometallurgy process of producing arsenic trioxide is composed of five steps: circulating alkaline leaching, cooling crystallization, deposition inversion, reduction leaching and concentration crystallization. The purity obtained As2O3 is more than 99.5% and the content of arsenic can be reduced to below 0.5% in leaching residue, which achieves effective separation of arsenic and other metals, such as antimony and lead. Open environmental protection and security way for arsenic were found; therefore, a new idea for the high arsenic materials processing was put forward.

Keywords:

High-arsenic dust ; Arsenic trioxide ; Circulating alkaline leaching et process for As extraction


Full Text:

Click here to access the Full Text

Cite this article as:

Yi Y, Guo X, Li D, Shi J. Investigation on Clean Recycling Arsenic from the High-arsenic Dust. In: Kongoli F, editors. Sustainable Industrial Processing Summit SIPS 2014 Volume 7: Energy Production, Environmental & Multiscale. Volume 7. Montreal(Canada): FLOGEN Star Outreach. 2014. p. 359-368.