2014-Sustainable Industrial Processing Summit
SIPS 2014 Volume 7: Energy Production, Environmental & Multiscale
| | |
| --- | --- |
| Editors: | Kongoli F |
| Publisher: | Flogen Star OUTREACH |
| Publication Year: | 2014 |
| Pages: | 528 pages |
| ISBN: | 978-1-987820-09-6 |
| ISSN: | 2291-1227 (Metals and Materials Processing in a Clean Environment Series) |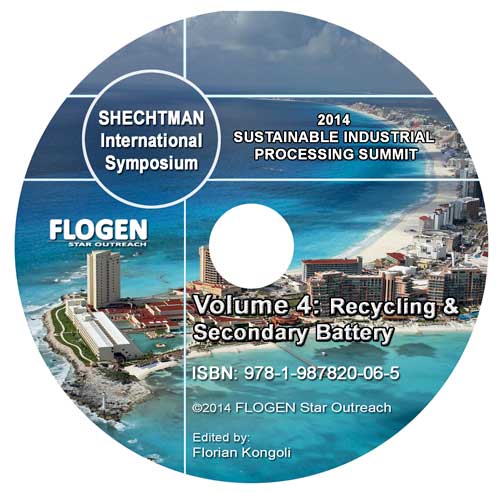 CD shopping page
PARTLY DISLOCATION OF THE INDUSTRIAL WASTE FROM MITROVICA INDUSTRIAL PARK AND ITS IMPACT ON THE ENVIRONMENT

Ilirjan Malollari1; Nushe Lajqi2; Milaim Sadiku2; Ismet Muliqi2; Mensur Kelmendi2; Selver Hoda2; Blerim Baruti2;
1UNIVERSITY OF TIRANA-FACULTY OF NATURAL SCIENCE, Tirana, Albania; 2UNIVERSITY OF PRISHTINA-FACULTY OF MINING AND METALLURGY, Mitrovica, Kosovo;
Type of Paper: Regular
Id Paper: 54
Topic: 8

Abstract:

Industrial Complex Trepca and especially Mitrovica region is surrounded by many tailings from industrial waste deposited in the past. These tailings are still causing air, water and soil pollution and in the same time disorder in biodiversity with huge impact on the health of population.
Mitrovica Industrial Park tailings contain four types of industrial waste: phosphate gypsum, jarosite, waste created from the process of pyrite and pyrotine roasting and the industrial waste created from the leaching process of zinc concentrate known as EIMCO tailing. This tailing extends over an area of 34.62 hectares and it is estimated that the total quantity of these residues is 1.520.000tons. These industrial wastes contain different heavy metals witch are toxic. Unfortunately this tailing is not maintained, it is open and unstable. The area around the tailings area is populated and it is only 0.5 km from the city center.
The results obtained in 30 cases for the period from May to June 2012 show that the amount of lead in the blood among residents near the tailings is higher than allowed. The area with impact from historical industrial waste, which needs to be rehabilitated with protective measure from further pollution, is about 160km2.
According to analysis the situation is even more difficult after the sale of certain quantity of industrial waste-EIMCO tailing, because considerable amount of dust is still present in the air and is expected further sedimentation in soil layers. In order to determine the environmental effects of these tailings, certain analysis with different parameters have been done with modern instruments and methods with equipment for environment analysis NITON XRF 700(EPA 6200).
Based on the results obtained we concluded the industrial waste treatment will be a significant generator for new jobs and revenue that could be used for the rehabilitation of contaminated areas.

Keywords:

Industrial park, industrial waste, tailings, metals, environmental effects


Full Text:

Click here to access the Full Text

Cite this article as:

Malollari I, Lajqi N, Sadiku M, Muliqi I, Kelmendi M, Hoda S, Baruti B. PARTLY DISLOCATION OF THE INDUSTRIAL WASTE FROM MITROVICA INDUSTRIAL PARK AND ITS IMPACT ON THE ENVIRONMENT. In: Kongoli F, editors. Sustainable Industrial Processing Summit SIPS 2014 Volume 7: Energy Production, Environmental & Multiscale. Volume 7. Montreal(Canada): FLOGEN Star Outreach. 2014. p. 381-386.