The success in applying today's sulfur-removal methods to heavy crude oil depends primarily on the oil's polycyclic aromatic hydrocarbons' concentration and not on the nature of the oil's sulfurous molecules.
On the basis of newly developed analytical methods, pilot-scale hydrotreating tests and kinetics investigations of several heavy oils, researchers conclude that three-ringed and larger polycyclic aromatic hydrocarbons, such as anthracene, reduce the effectiveness of heavy-oil desulfurization by blocking the access of sulfur compounds to catalysts' active sites.
Refineries separate crude oil by boiling point, which is related to density. Heavier fractions contain more sulfur and a large concentration of it makes the petroleum useless.
Decades ago, oil refineries adopted a process called hydrodesulfurization (HDS) to strip sulfur atoms from oil molecules. Sulfurous fractions are mixed with hydrogen and a cobalt-molybdenum catalyst, yielding hydrogen sulfide. Alternative technologies floated in recent years including sulfur-eating bacteria and sulfur-oxidizing reagents. Some experts see room for better-designed catalysts, too.
These methods tend to operate on the distilled fractions, but a pre-treatment of the crude oil itself may be an attractive option. One pre-treatment option may be ultrasound. When blasted with ultrasonic waves, liquids can undergo a process called acoustic cavitation, in which bubbles are formed and implode violently.
Refineries would have to integrate such units into their process, combining pre-treatment and post-treatment.
This paper will review some of the technologies for removing sulfur from heavy crude oil."/> The success in applying today's sulfur-removal methods to heavy crude oil depends primarily on the oil's polycyclic aromatic hydrocarbons' concentration and not on the nature of the oil's sulfurous molecules.
On the basis of newly developed analytical methods, pilot-scale hydrotreating tests and kinetics investigations of several heavy oils, researchers conclude that three-ringed and larger polycyclic aromatic hydrocarbons, such as anthracene, reduce the effectiveness of heavy-oil desulfurization by blocking the access of sulfur compounds to catalysts' active sites.
Refineries separate crude oil by boiling point, which is related to density. Heavier fractions contain more sulfur and a large concentration of it makes the petroleum useless.
Decades ago, oil refineries adopted a process called hydrodesulfurization (HDS) to strip sulfur atoms from oil molecules. Sulfurous fractions are mixed with hydrogen and a cobalt-molybdenum catalyst, yielding hydrogen sulfide. Alternative technologies floated in recent years including sulfur-eating bacteria and sulfur-oxidizing reagents. Some experts see room for better-designed catalysts, too.
These methods tend to operate on the distilled fractions, but a pre-treatment of the crude oil itself may be an attractive option. One pre-treatment option may be ultrasound. When blasted with ultrasonic waves, liquids can undergo a process called acoustic cavitation, in which bubbles are formed and implode violently.
Refineries would have to integrate such units into their process, combining pre-treatment and post-treatment.
This paper will review some of the technologies for removing sulfur from heavy crude oil."/> The success in applying today's sulfur-removal methods to heavy crude oil depends primarily on the oil's polycyclic aromatic hydrocarbons' concentration and not on the nature of the oil's sulfurous molecules.
On the basis of newly developed analytical methods, pilot-scale hydrotreating tests and kinetics investigations of several heavy oils, researchers conclude that three-ringed and larger polycyclic aromatic hydrocarbons, such as anthracene, reduce the effectiveness of heavy-oil desulfurization by blocking the access of sulfur compounds to catalysts' active sites.
Refineries separate crude oil by boiling point, which is related to density. Heavier fractions contain more sulfur and a large concentration of it makes the petroleum useless.
Decades ago, oil refineries adopted a process called hydrodesulfurization (HDS) to strip sulfur atoms from oil molecules. Sulfurous fractions are mixed with hydrogen and a cobalt-molybdenum catalyst, yielding hydrogen sulfide. Alternative technologies floated in recent years including sulfur-eating bacteria and sulfur-oxidizing reagents. Some experts see room for better-designed catalysts, too.
These methods tend to operate on the distilled fractions, but a pre-treatment of the crude oil itself may be an attractive option. One pre-treatment option may be ultrasound. When blasted with ultrasonic waves, liquids can undergo a process called acoustic cavitation, in which bubbles are formed and implode violently.
Refineries would have to integrate such units into their process, combining pre-treatment and post-treatment.
This paper will review some of the technologies for removing sulfur from heavy crude oil." /> The success in applying today's sulfur-removal methods to heavy crude oil depends primarily on the oil's polycyclic aromatic hydrocarbons' concentration and not on the nature of the oil's sulfurous molecules.
On the basis of newly developed analytical methods, pilot-scale hydrotreating tests and kinetics investigations of several heavy oils, researchers conclude that three-ringed and larger polycyclic aromatic hydrocarbons, such as anthracene, reduce the effectiveness of heavy-oil desulfurization by blocking the access of sulfur compounds to catalysts' active sites.
Refineries separate crude oil by boiling point, which is related to density. Heavier fractions contain more sulfur and a large concentration of it makes the petroleum useless.
Decades ago, oil refineries adopted a process called hydrodesulfurization (HDS) to strip sulfur atoms from oil molecules. Sulfurous fractions are mixed with hydrogen and a cobalt-molybdenum catalyst, yielding hydrogen sulfide. Alternative technologies floated in recent years including sulfur-eating bacteria and sulfur-oxidizing reagents. Some experts see room for better-designed catalysts, too.
These methods tend to operate on the distilled fractions, but a pre-treatment of the crude oil itself may be an attractive option. One pre-treatment option may be ultrasound. When blasted with ultrasonic waves, liquids can undergo a process called acoustic cavitation, in which bubbles are formed and implode violently.
Refineries would have to integrate such units into their process, combining pre-treatment and post-treatment.
This paper will review some of the technologies for removing sulfur from heavy crude oil.">
2014-Sustainable Industrial Processing Summit
SIPS 2014 Volume 7: Energy Production, Environmental & Multiscale
| | |
| --- | --- |
| Editors: | Kongoli F |
| Publisher: | Flogen Star OUTREACH |
| Publication Year: | 2014 |
| Pages: | 528 pages |
| ISBN: | 978-1-987820-09-6 |
| ISSN: | 2291-1227 (Metals and Materials Processing in a Clean Environment Series) |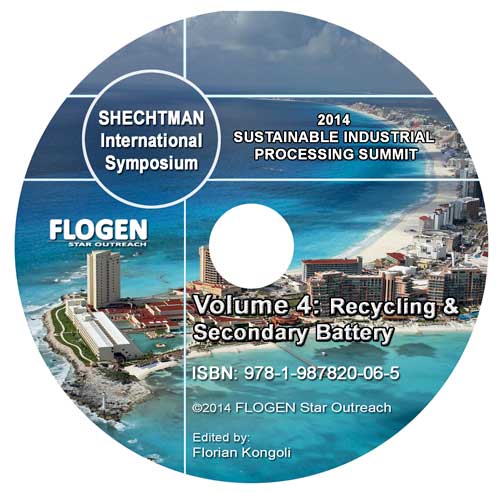 CD shopping page
Technologies for Removing Sulfur from Heavy Crude Oil

Abdollah Esmaeili1;
1UNIVERSITI TEKNOLOGI PETRONAS (UTP), Omidieh, Iran (Islamic Republic of Iran);
Type of Paper: Regular
Id Paper: 97
Topic: 15

Abstract:

Removing sulfur is an unpleasant-smelling proposition for oil refineries. Petroleum industry is tightening limits on the sulfur content of gasoline and at the same time, the crude oil coming out of the ground is becoming increasingly "sour" or sulfurous.
The success in applying today's sulfur-removal methods to heavy crude oil depends primarily on the oil's polycyclic aromatic hydrocarbons' concentration and not on the nature of the oil's sulfurous molecules.
On the basis of newly developed analytical methods, pilot-scale hydrotreating tests and kinetics investigations of several heavy oils, researchers conclude that three-ringed and larger polycyclic aromatic hydrocarbons, such as anthracene, reduce the effectiveness of heavy-oil desulfurization by blocking the access of sulfur compounds to catalysts' active sites.
Refineries separate crude oil by boiling point, which is related to density. Heavier fractions contain more sulfur and a large concentration of it makes the petroleum useless.
Decades ago, oil refineries adopted a process called hydrodesulfurization (HDS) to strip sulfur atoms from oil molecules. Sulfurous fractions are mixed with hydrogen and a cobalt-molybdenum catalyst, yielding hydrogen sulfide. Alternative technologies floated in recent years including sulfur-eating bacteria and sulfur-oxidizing reagents. Some experts see room for better-designed catalysts, too.
These methods tend to operate on the distilled fractions, but a pre-treatment of the crude oil itself may be an attractive option. One pre-treatment option may be ultrasound. When blasted with ultrasonic waves, liquids can undergo a process called acoustic cavitation, in which bubbles are formed and implode violently.
Refineries would have to integrate such units into their process, combining pre-treatment and post-treatment.
This paper will review some of the technologies for removing sulfur from heavy crude oil.

Full Text:

Click here to access the Full Text

Cite this article as:

Esmaeili A. Technologies for Removing Sulfur from Heavy Crude Oil. In: Kongoli F, editors. Sustainable Industrial Processing Summit SIPS 2014 Volume 7: Energy Production, Environmental & Multiscale. Volume 7. Montreal(Canada): FLOGEN Star Outreach. 2014. p. 237-244.