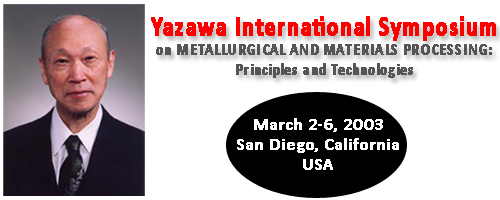 This symposium is organized to honor the very distinguished work and lifetime achievements of Prof. Akira Yazawa in Metallurgical and Materials Processing. Prof. Yazawa is renowned for his impact in extractive metallurgy of copper as well as in that of Zn, Pb, Ni, Sn, Sb, Au, Hg and Cd. His over 300 publications have dealt with a variety of subjects such as slag, alloys, matte, speiss, aqueous solutions, alcohols, algae etc. The topics of this symposium will reflect this rich and colorful activity and will cover simultaneously the thermophysicochemical fundamentals of metallurgical and materials processing, their industrial applications as well as the development of new and improved technologies in non-ferrous, ferrous and hydro-metallurgy, materials processing and in materials-related environmental science.
About 300 abstracts from 37 countries
28 Co-sponsoring societies and organizations worlwide
10 Major Industrial Companies financially sponsoring
3 volumes of Proceedings of about 3000 pages
PAST SPEAKERS



Hon. Janez Potocnik

,

EU Environmental Commissioner

The approach that worked in the past centuries will fail in the 21st century... Doing more with less becomes the competitive advantage in the 21st century.