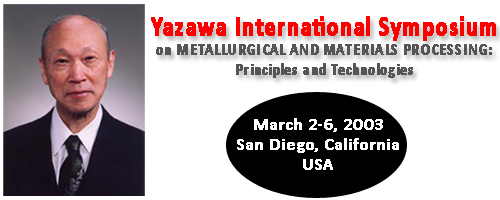 This symposium is organized to honor the very distinguished work and lifetime achievements of Prof. Akira Yazawa in Metallurgical and Materials Processing. Prof. Yazawa is renowned for his impact in extractive metallurgy of copper as well as in that of Zn, Pb, Ni, Sn, Sb, Au, Hg and Cd. His over 300 publications have dealt with a variety of subjects such as slag, alloys, matte, speiss, aqueous solutions, alcohols, algae etc. The topics of this symposium will reflect this rich and colorful activity and will cover simultaneously the thermophysicochemical fundamentals of metallurgical and materials processing, their industrial applications as well as the development of new and improved technologies in non-ferrous, ferrous and hydro-metallurgy, materials processing and in materials-related environmental science.
About 300 abstracts from 37 countries
28 Co-sponsoring societies and organizations worlwide
10 Major Industrial Companies financially sponsoring
3 volumes of Proceedings of about 3000 pages
PAST SPEAKERS
---
Hon. Janez Potocnik
,
EU Environmental Commissioner
The approach that worked in the past centuries will fail in the 21st century... Doing more with less becomes the competitive advantage in the 21st century.
PAST SPEAKERS
---
Hon Reinhard Butikofer
, MP,
European Parliament
Investment into R&D, use of urban mines, international cooperation and new institutions are elements of a win-win strategy
PAST SPEAKERS
---
HE Stephan Vavrik
,
Deputy Head of European Commission in Mexico
Sustainability is not wishful thinking; it lies in our and your hands
PAST SPEAKERS
---
Hon Stephan Dion
, MP,
Canadian Parliament
Sustainable and responsible mining is but one of the serious issues that constrain the quest for sustainable development.
PAST SPEAKERS
---
Manuel E. Ramos
,
President, Grupo Mexico/Asarco,
USA
Mining can be sustainable when it is conducted in a manner that balances economic, environmental and social considerations
PAST SPEAKERS
---
Mark Caffarey
,
Vice President, Umicore,
Belgium/USA
Growing material requirements, tightening of material availabilities and the environment legislation laws change the dynamics for recycling
PAST SPEAKERS
---
Wojciech Kedzia
,
Vice President, KGHM,
Poland
We thrive to strike a balance between productivity, protecting the environment and supporting the development of the region and local communities
PAST SPEAKERS
---
Krishna Parameswaran
,
Environmental Director Grupo
Mexico/Asarco
Sustainable development or for that matter any development not based to some degree on mining is impossible
PAST SPEAKERS
---
Hans-Peter Behrendt
,
Berzelius Metall,
Germany
Responsibility for the environment is a matter of principle
PAST SPEAKERS
---
Nobuhiko Takamatsu
,
Director General Manager Iron-Making, Nippon Steel, Japan
The sustainable innovative iron-making technologies were developed from both business and comprehensible technical knowledge
PAST SPEAKERS
---
Takashi Nakamura
,
President of MMIJ,
Japan
The harmonious coexistence between environment and economic growth can be achieved through the 3R strategy: Reduce, Reuse and Recycle
PAST SPEAKERS
---
Cyro Takano
,
Sao Paolo University,
Brazil
Brazil is the largest producer of charcoal pig iron in the world, also called 'green pig iron'.
PAST SPEAKERS
---
Yoshio Waseda
,
Tohoku University,
Japan
The beneficial utilization of all materials and resources should be pursued very actively
PAST SPEAKERS
---
K.T. Jacob
,
Indian Institute of Science,
India
Regenerative energy systems are the answer to the grand challenge of this century to use sunlight and water to produce clean energy
PAST SPEAKERS
---
Martin Pech-Canul
,
CINVESTAV,
Mexico
New modified paradigm of materials science and engineering is proposed: 'Processing -> Structure -> Property -> Performance -> Recyclability'.
PAST SPEAKERS
---
Mario Sanchez
,
University of Conception,
Chile
Social responsibility and development of activities closer to communities involved in mining projects are strongly considered for the next years
PAST SPEAKERS
---
Fray Derek
,
University of Cambrige,
UK
It is possible to devise solutions by combining knowledge of science with experience of industrial problems
PAST SPEAKERS
---
Fathi Habashi
,
University of Laval,
Canada
Mineral resources of a country represent an important national wealth.