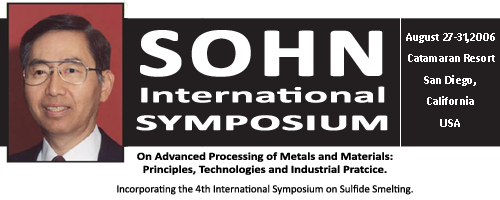 This symposium is in honor of the distinguished work and lifetime achievements of Professor H.Y. Sohn. Professor Sohn is renowned for his impact in various fields such as nonferrous, ferrous and nanoscale materials processing; many processing routes including pyrometallurgy, hydrometallurgy, chemical vapor synthesis and processing, and recycling; and several investigation techniques such as experimental measurements, physical modeling and simulation. Reflecting this rich activity, the scope of this symposium is based on the three equally important topical areas of principles, technologies and industrial practice. It will include, but is not limited to, nonferrous metal extraction, processing and sulfide smelting (including light metals, PGMs and Ferro alloys); iron and steel production; mineral processing; chemical and metallurgical process reactors; refractory materials; recycling, waste treatment, soil remediation and biotechnologies; chemistry of power and energy generation; composite, hybrid, polymeric, ceramic materials and nanomaterials; value addition and advanced materials; legal, management, and environmental issues.
About 500 abstracts from 40 countries around the world
104 co-sponsoring societies and organization worldwide
9 Major Industrial Companies financially sponsoring
9 volumes of Proceedings of more than 6,000 pages
PAST SPEAKERS



Hon. Janez Potocnik

,

EU Environmental Commissioner

The approach that worked in the past centuries will fail in the 21st century... Doing more with less becomes the competitive advantage in the 21st century.