2015-Sustainable Industrial Processing Summit
SIPS 2015 Volume 10: Mineral & Secondary Battery
| | |
| --- | --- |
| Editors: | Kongoli F, Silva AC, Arol AI, Kumar V, Aifantis K |
| Publisher: | Flogen Star OUTREACH |
| Publication Year: | 2015 |
| Pages: | 340 pages |
| ISBN: | 978-1-987820-33-1 |
| ISSN: | 2291-1227 (Metals and Materials Processing in a Clean Environment Series) |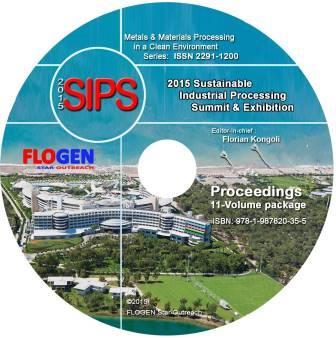 < CD shopping page
Chromium Ores in Albania

Genc Demi1;
1FACULTY OF GEOLOGY AND MINES, Tirana, Albania;
Type of Paper: Regular
Id Paper: 323
Topic: 5

Abstract:

The locations, reserves, chemical and mineralogical composition of main chromium deposits are shown in the paper. There are several chromium mines underground and in open sky. The exploitation technical figures and mining methods used in the mines are presented. The mineral processing of low and high grade chromium ores is carried out in some enrichment chromium plants operating with gravity concentration methods. The flowsheet of chromium plants and technological economical figures are generalized based in processing studies carried out in laboratory and industrial scale. Only a part of chromium ore produced in Albania is treated in ferro chromium smelters in Albania while the other part is exported mainly in China. Some data of metallurgical treatment and export of chromium ores are given. It is aimed to promote chromium investments in Albania between information of existing capacities of chromium industry. Gathering several data about geology, mining and mineral processing of chromium ores gave the possibility to generalize the characteristics in mining and mineral processing and to find the optimum of their treatment in the future. Based in the existing data for treatment of chromium ores we can conclude that economical side is important and decisive to improve the existing flowsheet of mineral processing in order to achieve chromium and grade recovery that results in a reasonable profit.

Keywords:

Mineral; Ore; Recovery; Slimes; Tailings;


Cite this article as:

Demi G. Chromium Ores in Albania. In: Kongoli F, Silva AC, Arol AI, Kumar V, Aifantis K, editors. Sustainable Industrial Processing Summit SIPS 2015 Volume 10: Mineral & Secondary Battery. Volume 10. Montreal(Canada): FLOGEN Star Outreach. 2015. p. 203-204.