2015-Sustainable Industrial Processing Summit
SIPS 2015 Volume 10: Mineral & Secondary Battery
| | |
| --- | --- |
| Editors: | Kongoli F, Silva AC, Arol AI, Kumar V, Aifantis K |
| Publisher: | Flogen Star OUTREACH |
| Publication Year: | 2015 |
| Pages: | 340 pages |
| ISBN: | 978-1-987820-33-1 |
| ISSN: | 2291-1227 (Metals and Materials Processing in a Clean Environment Series) |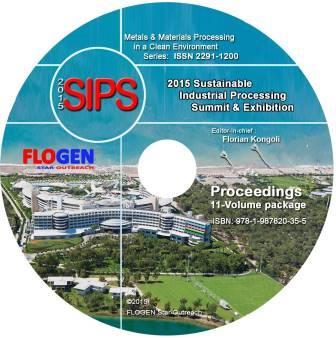 < CD shopping page
On the Processes on the Lithium Electrode in Lithium-Sulfur Batteries

Vladimir Kolosnitsyn1; Elena Kuzmina1; Elena Karaseva1; Alexey Ivanov1; Vasant Kumar2;
1LABORATORY OF ELECTROCHEMISTRY IN UFA INSTITUTE OF CHEMISTRY OF THE RUSSIAN ACADEMY OF SCIENCES, Ufa, Russian Federation; 2UNIVERSITY OF CAMBRIDGE, Cambridge, United Kingdom (Great Britain);
Type of Paper: Regular
Id Paper: 398
Topic: 14

Abstract:

Lithium-sulphur (Li-S) electrochemical system has attracted great interest because of its high theoretical specific energy of 2500-2700 Wh/kg. However, there are still many challenges ahead. The prototypes of lithium-sulphur batteries provide practical specific energy of 200-300 Wh/kg and can suffer fast capacity depletion during charge-discharge cycling. A key issue to address in a Li-S battery arises from lithium electrodes. Metallic lithium has high reactivity and can react with electrolyte systems during cycling of the batteries and can cause electrolyte destruction that is one of the reasons restricting the cycle life of Li-S batteries. Moreover, fine dispersed lithium precipitations can be formed on the negative electrode during electrochemical plating. This negatively affects the safety and the cycle life of Li-S batteries. We report on our study of chemical and physicochemical processes on a lithium electrode during both stripping and plating in selected electrolyte system of a Li-S battery by electrochemical impedance spectroscopy, electrochemical dilatometry, electrochemical isothermal calorimetry, galvanostatic cycling and scanning electron microscopy. The performed study shows that presence of lithium polysulphides in the electrolyte systems of lithium-sulphur batteries can reduce the rate of accumulation of fine dispersed lithium on the lithium electrodes during galvonastatic cycling of lithium-sulphur and half lithium cells. It was estimated that in presence of lithium polysulphide, corrosion activity of fine dispersed lithium decreases because of formation of a sulphide protective layer on the surface of lithium. This serves to increase the cycle life of lithium electrodes.

Keywords:

Anodes; Electrochemistry; Electrolytes; Heat; Interface; Li-S; Lithium; Organic;


Cite this article as:

Kolosnitsyn V, Kuzmina E, Karaseva E, Ivanov A, Kumar V. On the Processes on the Lithium Electrode in Lithium-Sulfur Batteries. In: Kongoli F, Silva AC, Arol AI, Kumar V, Aifantis K, editors. Sustainable Industrial Processing Summit SIPS 2015 Volume 10: Mineral & Secondary Battery. Volume 10. Montreal(Canada): FLOGEN Star Outreach. 2015. p. 263-264.