2015-Sustainable Industrial Processing Summit
SIPS 2015 Volume 10: Mineral & Secondary Battery
| | |
| --- | --- |
| Editors: | Kongoli F, Silva AC, Arol AI, Kumar V, Aifantis K |
| Publisher: | Flogen Star OUTREACH |
| Publication Year: | 2015 |
| Pages: | 340 pages |
| ISBN: | 978-1-987820-33-1 |
| ISSN: | 2291-1227 (Metals and Materials Processing in a Clean Environment Series) |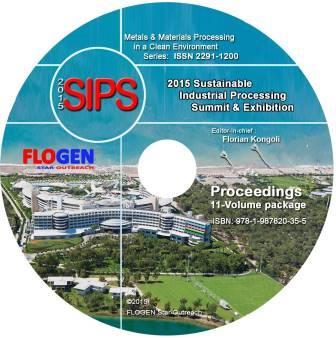 < CD shopping page
Inkjet Printing and Inkjet Infiltration of Functional Coatings for Energy Applications

Rumen Tomov1; Vasant Kumar1; B Glowacki1;
1UNIVERSITY OF CAMBRIDGE, Cambridge, United Kingdom (Great Britain);
Type of Paper: Regular
Id Paper: 509
Topic: 14

Abstract:

The feasibility of the inkjet printing technique for fabrication and modification of electrode and electrolyte coatings for energy applications was studied. A variety of suspension (ceramic, metal) and solution inks was optimised for direct inkjet printing of functional coatings and patterns (2D/3D) as well as infiltration of the electrodes' backbone structures. Electromagnetic print-heads were utilized to reproducibly dispense droplets at rates of several kHz on demand. Printing parameters including line pressure, nozzle opening time and droplet overlapping percentage were studied in order to optimize the jetting and the uniformity of ink delivery. Special attention was paid to finding working windows without satellite droplets formation in order to maximise the printing resolution. Droplet volumes of order of nano-litters and jetting velocities of order of several meters per second were achieved without accompanying splashing effects. The technology allowed easy modification of the coatings, including thickness control, composition and porosity graduation. Scanning electron microscopy revealed highly conformal coatings produced on rigid and flexible substrates with thickness resolution below 10 Ám. The effect of microstructure on the electrochemical and electrical performance was investigated. Drop-on-demand inkjet printing infiltration was explored in order to achieve controllable loading of active elements via variation of Reynolds and Weber numbers of the impinging ink droplets. The inkjet printing was proven to be environmentally friendly by allowing a substantial reduction of the expensive precursor materials usage.

Keywords:

Anodes; Cathodes; Conduction; Electrolytes; Technology; Viscosity;


Full Text:

Click here to access the Full Text

Cite this article as:

Tomov R, Kumar V, Glowacki B. Inkjet Printing and Inkjet Infiltration of Functional Coatings for Energy Applications. In: Kongoli F, Silva AC, Arol AI, Kumar V, Aifantis K, editors. Sustainable Industrial Processing Summit SIPS 2015 Volume 10: Mineral & Secondary Battery. Volume 10. Montreal(Canada): FLOGEN Star Outreach. 2015. p. 293-294.