2015-Sustainable Industrial Processing Summit
SIPS 2015 Volume 10: Mineral & Secondary Battery
| | |
| --- | --- |
| Editors: | Kongoli F, Silva AC, Arol AI, Kumar V, Aifantis K |
| Publisher: | Flogen Star OUTREACH |
| Publication Year: | 2015 |
| Pages: | 340 pages |
| ISBN: | 978-1-987820-33-1 |
| ISSN: | 2291-1227 (Metals and Materials Processing in a Clean Environment Series) |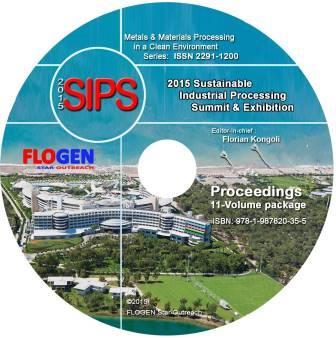 < CD shopping page
MgO Sinter Production Process Upgrade at MIM - Golesh Co.

Shefik Imeri1; Florim Gara1; Sejdi Hasi1; Musa Rizaj2; Nyrtene Deva3; Florian Kongoli4;
1MIM-GOLESH, Prishtina, Kosovo; 2UNIVERSITY OF PRISHTINA, Prishtina, Kosovo; 3UNIVERSITY ISA BOLETINI - MITROVICA, Mitrovica, Kosovo; 4FLOGEN TECHNOLOGIES INC., Mont-Royal, Canada;
Type of Paper: Keynote
Id Paper: 81
Topic: 5

Abstract:

A study to upgrade the Rotary Kiln production of MgO sinter in MIM Goulash Co. is being carried out in cooperation with FLOGEN Technologies Inc. to increase productivity, quality and protect the environment. It mainly consists of using as combustible 80% petcoke and 20% mazut through two-channel burner and using electrostatic precipitators to clean Rotary Kiln gases and capture dusts. After the de-dusting process and peletization, the dust will be returned as feed in the Rotary Kiln. This upgrade decreases considerably the production cost of MgO sinter, increases significantly the production capacity, improves product quality and decreases environmental pollution by releasing much less dust in the atmosphere. In this paper, the upgrade improvement is described and its advantages are explained.

Keywords:

Oxide; Production; Roaster; Technology;


Cite this article as:

Imeri S, Gara F, Hasi S, Rizaj M, Deva N, Kongoli F. MgO Sinter Production Process Upgrade at MIM - Golesh Co.. In: Kongoli F, Silva AC, Arol AI, Kumar V, Aifantis K, editors. Sustainable Industrial Processing Summit SIPS 2015 Volume 10: Mineral & Secondary Battery. Volume 10. Montreal(Canada): FLOGEN Star Outreach. 2015. p. 81-82.