2015-Sustainable Industrial Processing Summit
SIPS 2015 Volume 10: Mineral & Secondary Battery
| | |
| --- | --- |
| Editors: | Kongoli F, Silva AC, Arol AI, Kumar V, Aifantis K |
| Publisher: | Flogen Star OUTREACH |
| Publication Year: | 2015 |
| Pages: | 340 pages |
| ISBN: | 978-1-987820-33-1 |
| ISSN: | 2291-1227 (Metals and Materials Processing in a Clean Environment Series) |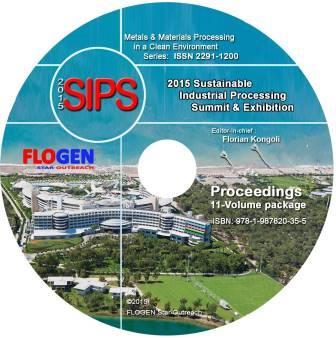 < CD shopping page
Sand Production Management for Oil and Gas Reservoirs

Maryam Dehghani1;
1NATIONAL IRANIAN OIL COMPANY (N.I.O.C), Omidieh, Iran (Islamic Republic of Iran);
Type of Paper: Regular
Id Paper: 95
Topic: 5

Abstract:

Sand production is a serious problem in oil and gas reservoirs worldwide. It can drastically affect production rates. The adoption of a sand management strategy is crucial for prolonging economic reservoir development for sand producing reservoirs. Significant gains in production (acceleration) and reserves (IOR) can be resulted from the pursuance of sand management in these fields. Such a strategy requires the sand production to be managed in a safe and controlled manner where the negative consequences of sand production are manageable and predictable. Sand management has been identified as one of the key issues in field development in most of the world's oil and gas fields. Sand management is not just about selection of sand control systems - it is about maximizing and maintaining production while managing sand at acceptable rates. Successful sand management can only be achieved with a fully integrated, multi-disciplinary team. Facilities sand management is tasked with the goal of ensuring sustained hydrocarbon production when particulate solids (i.e. sand) are present in well fluids, while minimizing the impact of these produced solids on surface equipment. Particle size and total concentration of formation sand determine their net effect on production and the resulting operability of surface facilities. Conventional sand management control focuses on sand exclusion from the wellbore, either by production limits or completion design. Completions may adversely affect inflow due to skin buildup and both controls impede maximum hydrocarbon production. Alternatively, co-production of fluids and solids, with subsequent sand handling at surface facilities, is an inclusion paradigm that allows sustained hydrocarbon production. Produced solids are removed at the wellhead upstream of the choke using fit-for-purpose equipment. This methodology allows for increased or recovered hydrocarbon production, while their removal upstream of the choke protects facilities operations.

Cite this article as:

Dehghani M. Sand Production Management for Oil and Gas Reservoirs. In: Kongoli F, Silva AC, Arol AI, Kumar V, Aifantis K, editors. Sustainable Industrial Processing Summit SIPS 2015 Volume 10: Mineral & Secondary Battery. Volume 10. Montreal(Canada): FLOGEN Star Outreach. 2015. p. 143-144.