2015-Sustainable Industrial Processing Summit
SIPS 2015 Volume 8: Composite & Ceramic, Quasi-crystals and Nanomaterials
| | |
| --- | --- |
| Editors: | Kongoli F, Pech-Canul M, Kalemtas A, Werheit H |
| Publisher: | Flogen Star OUTREACH |
| Publication Year: | 2015 |
| Pages: | 300 pages |
| ISBN: | 978-1-987820-31-7 |
| ISSN: | 2291-1227 (Metals and Materials Processing in a Clean Environment Series) |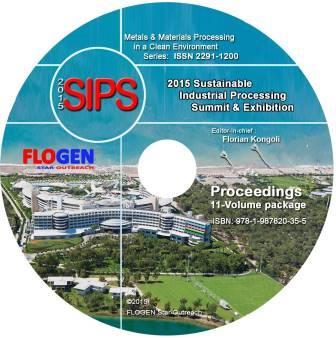 < CD shopping page
Effect of Boric Acid on Dielectric Properties of Porcelain Insulator

Tuna Aydin1; Alpagut Kara2;
1KIRIKKALE UNIVERSITY, Kirikkale, Turkey; 2ANADOLU UNIVERSITY, ENGINEERING FACULTY, MATERIAL SCIENCE AND ENGINEERING DEPARTMENT, Eskisehir, Turkey;
Type of Paper: Regular
Id Paper: 386
Topic: 18

Abstract:

In this study, production of porcelain for the ceramic dielectric applications by using inexpensive natural raw materials or waste materials was undertaken. The principal raw materials of porcelain, such as kaolin, feldspar and quartz are relatively inexpensive and readily available. The basic electro-porcelain composition was selected consisting of 20% clay, 30% kaolin, 30% potash-feldspar and 20% quartz. The samples synthesized were characterized by X-ray diffraction (XRD) technique. The dielectric properties of porcelain bodies prepared, e.g. dielectric constant, dielectric loss tangent (tan δ) and loss factor, were investigated. Dielectric measurements have been carried out at 1 KHz in the ambient temperature. The dielectric constant ε' of standard porcelain and porcelain with boric acid samples sintered at the most proper sintering temperature 1310°C were about 8 and 16 respectively. The value of dielectric constant of porcelain with boric acid is higher as compared to standard porcelain.

Keywords:

Ceramic; Materials; Microstructure; Processing;


References:

[1] A. S. Demirkiran, R. Artir, E. Avci: Electrical Resistivity of Porcelain Bodies With Natural Zeolite Addition, Ceramics International 36 (2010), 917–921
[2] Aydin T. in: Improvement of electroporcelain bodies based on alumina, Master of Science thesis, Anadolu University, Graduate school of science, (2006)
[3] R. H. Piva., P.Vilarinho, M. R. Morelli, M.A. Fiori, O. R. K. Montedo.: Influence of Fe2O3 content on the dielectric behavior of aluminous porcelain insulators, Ceramics International 39 (2013), 7323–7330
[4] A.P Goswami, S. Roy, G. C. Das: Effect of powder, chemistry and morphology on the dielectric properties of liquid-phase-sintered alumina, Ceramics International 28, 439–445(2002)
[5] I. Stubna A.Trnik, F. Chmelik, L. Vozar In: Advances In Ceramics - Characterization, Raw Materials, Processing, Properties, Degradation and Healing, Doi: 10.5772/933, Chapter Publisher: Intech, 2011

Full Text:

Click here to access the Full Text

Cite this article as:

Aydin T and Kara A. Effect of Boric Acid on Dielectric Properties of Porcelain Insulator. In: Kongoli F, Pech-Canul M, Kalemtas A, Werheit H, editors. Sustainable Industrial Processing Summit SIPS 2015 Volume 8: Composite & Ceramic, Quasi-crystals and Nanomaterials. Volume 8. Montreal(Canada): FLOGEN Star Outreach. 2015. p. 233-238.