2015-Sustainable Industrial Processing Summit
SIPS 2015 Volume 8: Composite & Ceramic, Quasi-crystals and Nanomaterials
| | |
| --- | --- |
| Editors: | Kongoli F, Pech-Canul M, Kalemtas A, Werheit H |
| Publisher: | Flogen Star OUTREACH |
| Publication Year: | 2015 |
| Pages: | 300 pages |
| ISBN: | 978-1-987820-31-7 |
| ISSN: | 2291-1227 (Metals and Materials Processing in a Clean Environment Series) |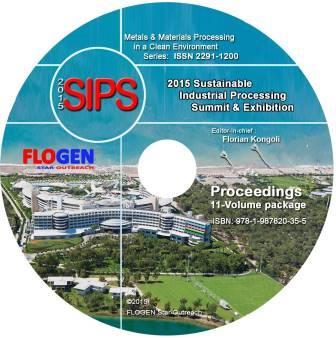 < CD shopping page
Hierarchical Porous Mullite Ceramic Fabrication via Polymeric Sponge Method

Ayse Kalemtas1;
1BURSA TECHNICAL UNIVERSITY, Bursa, Turkey;
Type of Paper: Regular
Id Paper: 439
Topic: 18

Abstract:

Dense and porous mullite ceramics have a long tradition as an important material both in traditional and advanced ceramic applications. Porous mullite ceramics exhibit an excellent combination of good thermal-shock resistance and low thermal expansion coefficient as well as high mechanical and chemical stability at elevated temperatures. Mullite ceramics can be produced via various different approaches; however, among the available approaches, fabrication of mullite ceramics by using kaolin as starting material is an important one due to its economic potential. In the current study, hierarchical porous mullite ceramics were produced via polymeric sponge method by using kaolin as starting raw material. Polyurethane sponges with a different number of pores per inch were physically joined together to produce an open porosity gradient in the structure layer by layer. Phase composition and microstructure evolution of the porous samples were investigated as a function of sintering temperature and soaking time at a constant heating rate.

Keywords:

Ceramic; Characterization; Processing;


Full Text:

Click here to access the Full Text

Cite this article as:

Kalemtas A. Hierarchical Porous Mullite Ceramic Fabrication via Polymeric Sponge Method. In: Kongoli F, Pech-Canul M, Kalemtas A, Werheit H, editors. Sustainable Industrial Processing Summit SIPS 2015 Volume 8: Composite & Ceramic, Quasi-crystals and Nanomaterials. Volume 8. Montreal(Canada): FLOGEN Star Outreach. 2015. p. 283-284.