2015-Sustainable Industrial Processing Summit
SIPS 2015 Volume 8: Composite & Ceramic, Quasi-crystals and Nanomaterials
| | |
| --- | --- |
| Editors: | Kongoli F, Pech-Canul M, Kalemtas A, Werheit H |
| Publisher: | Flogen Star OUTREACH |
| Publication Year: | 2015 |
| Pages: | 300 pages |
| ISBN: | 978-1-987820-31-7 |
| ISSN: | 2291-1227 (Metals and Materials Processing in a Clean Environment Series) |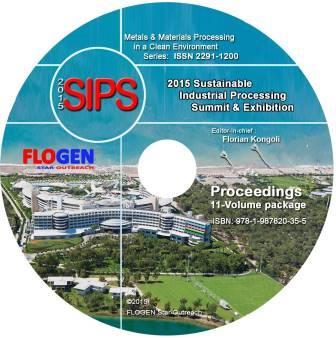 < CD shopping page
Preparation of Sn on Graphene-Based Composites as Anode Materials for Lithium-Ion Batteries

Benjaporn Jarulertwathana1; Thapanee Sarakonsri2;
1CHIANG MAI UNIVERSITY, Muang, Thailand; 2CHIANG MAI UNIVERSITY, Maung, Thailand;
Type of Paper: Regular
Id Paper: 441
Topic: 16

Abstract:

Nanocomposites of Tin/graphene (Sn/graphene) and tin/nitrogen-doped graphene (Sn/N-doped graphene) were prepared in order to be used as anode materials in lithium-ion batteries. The major advantages of Sn and graphene-based supporters are high theoretical specific capacity and good mechanical stability, respectively. Simple and low cost methods were employed to prepare the composites. Graphene was prepared by thermal annealing of graphene oxide and N-doped graphene was prepared by annealing graphene oxide with melamine. The solution method was brought to prepare the Sn/graphene-based composites. The composites were prepared with 10 and 20 percent weight of Sn on graphene-based supporters. The prepared Sn/graphene-based composites were characterized by X-ray diffraction (XRD), scanning electron microscopy (SEM) and transmission electron microscopy (TEM) techniques. Graphene and N-doped graphene existed as the major phases in the composites. The Graphene-based supporters were thin exfoliating graphite structured. Small particles of Sn found in the composites in different sizes were dispersed thoroughly on graphene-based sheets. These Sn/graphene-based composites are expected to provide high lithium storage capacity and to be used as anodes in lithium-ion batteries.

Keywords:

Batteries; Carbon; Nanomaterials; Synthesis;


Full Text:

Click here to access the Full Text

Cite this article as:

Jarulertwathana B and Sarakonsri T. Preparation of Sn on Graphene-Based Composites as Anode Materials for Lithium-Ion Batteries. In: Kongoli F, Pech-Canul M, Kalemtas A, Werheit H, editors. Sustainable Industrial Processing Summit SIPS 2015 Volume 8: Composite & Ceramic, Quasi-crystals and Nanomaterials. Volume 8. Montreal(Canada): FLOGEN Star Outreach. 2015. p. 131-132.