2015-Sustainable Industrial Processing Summit
SIPS 2015 Volume 9: Physics, Advanced Materials, Multifunctional Materials
| | |
| --- | --- |
| Editors: | Kongoli F, Dubois JM, Gaudry E, Fournee V, Marquis F |
| Publisher: | Flogen Star OUTREACH |
| Publication Year: | 2015 |
| Pages: | 275 pages |
| ISBN: | 978-1-987820-32-4 |
| ISSN: | 2291-1227 (Metals and Materials Processing in a Clean Environment Series) |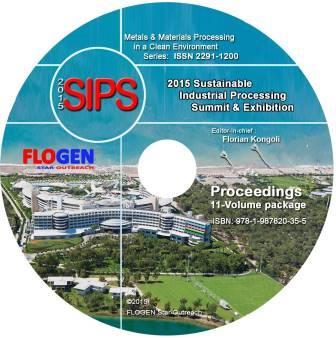 < CD shopping page
Materials Challenges and Opportunities in Wind Energy

Fernand Marquis1; Rui Vilar2;
1SAN DIEGO STATE UNIVERSITY, DEPARTMENT OF MECHANICAL ENGINEERING, San Diego, United States; 2INSTITUTO SUPERIOR TECNICO, Lisboa, Portugal;
Type of Paper: Regular
Id Paper: 176
Topic: 21

Abstract:

The Wind power available on the Earth atmosphere is much larger than the current world power consumption. Its potential on land and near shore is believed to exceed 72 TW. This is equivalent to 54 millions of tons of oil per year, or over five times the total combined world power from all sources. In addition, wind power is clean and renewable without any form of emissions or residues and it does not involve the depletion of any form of fuel. The growth in new capacity has exceeded 30 percent over the last five years and is expected to continue and/or exceed this trend for many years to come. This means that the wind power industry is currently experiencing a very rapid development stage but is far from reaching its mature stage. Currently, it faces many important challenges and opportunities but its potential is extraordinary. The environmental impacts are very few but not in depth such as noise and potential disturbance in landscape, fauna and flora. Advances in power grid characteristics and recharging technology are expected to be considerable enablers. This paper discusses typical challenges and opportunities in mechanical and materials design and manufacture with particular focus on the potential of nano-composites and hybrid materials for application in new environments and geographic locations both land-based and offshore.

Cite this article as:

Marquis F and Vilar R. Materials Challenges and Opportunities in Wind Energy. In: Kongoli F, Dubois JM, Gaudry E, Fournee V, Marquis F, editors. Sustainable Industrial Processing Summit SIPS 2015 Volume 9: Physics, Advanced Materials, Multifunctional Materials. Volume 9. Montreal(Canada): FLOGEN Star Outreach. 2015. p. 85-86.