2015-Sustainable Industrial Processing Summit
SIPS 2015 Volume 9: Physics, Advanced Materials, Multifunctional Materials
| | |
| --- | --- |
| Editors: | Kongoli F, Dubois JM, Gaudry E, Fournee V, Marquis F |
| Publisher: | Flogen Star OUTREACH |
| Publication Year: | 2015 |
| Pages: | 275 pages |
| ISBN: | 978-1-987820-32-4 |
| ISSN: | 2291-1227 (Metals and Materials Processing in a Clean Environment Series) |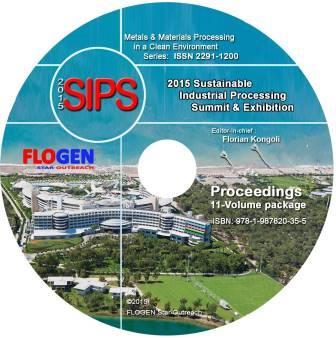 < CD shopping page
Direct Electro-Oxidation of Cellulose at Au Electrode in Ionic Liquids

Yasuhito Sugano1;
1ABO AKADEMI UNIVERSITY, Turku, Finland;
Type of Paper: Regular
Id Paper: 422
Topic: 21

Abstract:

Design of an innovative utilization technology for cellulose - a promising, environmental-friendly and renewable resource for the production of valuable chemicals and raw materials for industry - offers a new platform in our efforts towards sustainable society. In recent years, a new reaction pathway from cellulose was found and the key parameters of the process were investigated. The process involves electro-oxidation of cellulose mediated by an Au electro-catalyst in alkaline media that converts water insoluble cellulose into water soluble functional materials. In the reaction, adsorption of OH anions onto the electrode surface plays an important role for the electrochemical functionalization of cellulose molecule. Considering the mechanism of the reaction, it is expected that additional new functional materials can be obtained from cellulose by applying special solvents having OH anions that are designed for the electro-oxidation of cellulose. In this work, we synthesized and designed special solvent systems based on ionic liquids - one of the most powerful solvent systems for cellulose dissolution - in order to construct an innovative reaction platform for the design of the series of functional materials and valuable chemicals from cellulose.
The electrochemical reactivity of cellulose in the tailor-made IL systems was characterized by cyclic voltammetry (CV) and electrochemical impedance spectroscopy (EIS) under N2 atmosphere. The reaction products were characterized by (FT-IR), X-ray diffraction (XRD) and scanning electron microscopy (SEM). For the first time, it was discovered that the cellulose can be oxidized directly at an Au electrode surface in an IL system. Thus, this opens a new research topic as well as a promising technology to produce different types of functional materials and chemicals for industry.

Keywords:

Biomass; Conversion; Environment; Industry; Materials; Renewable; Sustainability; Technologies;


Cite this article as:

Sugano Y. Direct Electro-Oxidation of Cellulose at Au Electrode in Ionic Liquids. In: Kongoli F, Dubois JM, Gaudry E, Fournee V, Marquis F, editors. Sustainable Industrial Processing Summit SIPS 2015 Volume 9: Physics, Advanced Materials, Multifunctional Materials. Volume 9. Montreal(Canada): FLOGEN Star Outreach. 2015. p. 127-128.