2015-Sustainable Industrial Processing Summit
SIPS 2015 Volume 9: Physics, Advanced Materials, Multifunctional Materials
| | |
| --- | --- |
| Editors: | Kongoli F, Dubois JM, Gaudry E, Fournee V, Marquis F |
| Publisher: | Flogen Star OUTREACH |
| Publication Year: | 2015 |
| Pages: | 275 pages |
| ISBN: | 978-1-987820-32-4 |
| ISSN: | 2291-1227 (Metals and Materials Processing in a Clean Environment Series) |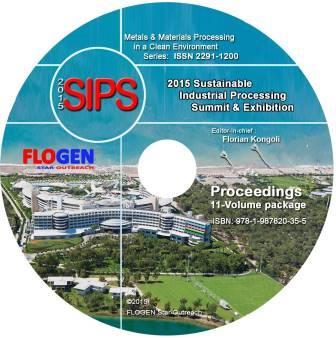 < CD shopping page
Surface Treatment of Polymers: Fundamental and Applied Research

Thomas Duguet1;
1CIRIMAT - CNRS, Toulouse, France;
Type of Paper: Invited
Id Paper: 470
Topic: 20

Abstract:

Our group specializes in CVD coating processes. Both our applied and fundamental projects aim at establishing the process-structure-properties relationship. For instance, in collaboration with SME's and end users of the space research field, we successfully coat polymer composite surfaces to tailor their electrical conductivity and light absorption properties. In the meantime, we also develop polymer surface models with the combination of surface science experiments and DFT calculations, in order to improve our understanding of polymer surface reactivity.
The applied and fundamental aspects of our activity will be presented with a first focus on the development of low reflectivity coatings (<2%), and a second focus about the development of an experimental and theoretical model of a poly-epoxy surface – a material relevant to a variety of applications.

Keywords:

Coatings; Models; Surfaces;


Cite this article as:

Duguet T. Surface Treatment of Polymers: Fundamental and Applied Research. In: Kongoli F, Dubois JM, Gaudry E, Fournee V, Marquis F, editors. Sustainable Industrial Processing Summit SIPS 2015 Volume 9: Physics, Advanced Materials, Multifunctional Materials. Volume 9. Montreal(Canada): FLOGEN Star Outreach. 2015. p. 81-82.