2015-Sustainable Industrial Processing Summit
SIPS 2015 Volume 9: Physics, Advanced Materials, Multifunctional Materials
| | |
| --- | --- |
| Editors: | Kongoli F, Dubois JM, Gaudry E, Fournee V, Marquis F |
| Publisher: | Flogen Star OUTREACH |
| Publication Year: | 2015 |
| Pages: | 275 pages |
| ISBN: | 978-1-987820-32-4 |
| ISSN: | 2291-1227 (Metals and Materials Processing in a Clean Environment Series) |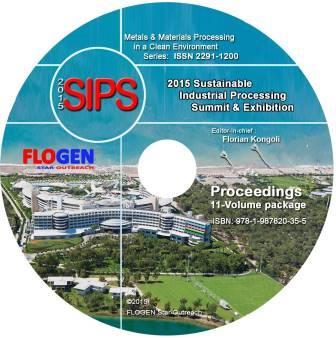 < CD shopping page
Nanostructured materials: Addressing corrosion and cracking in extreme environments

Indranil Roy1; Gregoire Jacob1; Ting C. Roy2; Kripa Varanasi2;
1SCHLUMBERGER, Rosharon, United States; 2MIT, Cambridge, United States;
Type of Paper: Regular
Id Paper: 562
Topic: 22

Abstract:

To bring high pressure and high temperature (HPHT) reservoirs on-stream, there is an urgent need to develop advanced alloys, where higher strength allows design of critical wall thicknesses necessary to counter burst and collapse of tubular(s) deployed downhole. However, the presence of sour gases coupled with HPHT, poses significant engineering challenges associated with corrosion, environmental cracking (EC) and hydrogen embrittlement (H2E), especially of high strength alloys. In this area nano-materials can potentially offer some reliefs in abetting reduce susceptibility to EC and H2E while providing necessary strength. Our talk first addresses the technology gaps in alloy requirements for deep-water and sour HPHT. Potentials of harnessing bulk nanocrystalline materials and coating in oil and gas environments will be subsequently addressed. As research in progress, experiments delving into environmental cracking susceptibility of nanocrystalline materials and "surface nanocrystallized" stainless steels in contrast to their coarse grain (CG) commercial counterparts will be discussed. To assess susceptibility of nanocrystalline materials in contrast to its coarse grained counterpart (CG) to EC and H2E, tests (NACE TM0177 - Method C and NACE TM0198-2004 – SSRT) in air and sour environment (with and without cathodic polarization - CP) were performed. A CP of 1100 mV below open circuit potential (OCP) of the alloys in selected sour environment was applied during quasi static tensile tests. In line with recent publications that nano-materials perform better than their CG counterparts, our results affirm that grain refinement and grain boundary engineering abets corrosion performance and EC / H2E susceptibility.

Keywords:

Development; Energy; Engineering; Materials; Nanomaterials; Strength;


Cite this article as:

Roy I, Jacob G, Roy T, Varanasi K. Nanostructured materials: Addressing corrosion and cracking in extreme environments. In: Kongoli F, Dubois JM, Gaudry E, Fournee V, Marquis F, editors. Sustainable Industrial Processing Summit SIPS 2015 Volume 9: Physics, Advanced Materials, Multifunctional Materials. Volume 9. Montreal(Canada): FLOGEN Star Outreach. 2015. p. 257-258.