2016-Sustainable Industrial Processing Summit
SIPS 2016 Volume 1: D'Abreu Intl. Symp. / Iron and Steel Making
| | |
| --- | --- |
| Editors: | Kongoli F, Noldin JH, Takano C, Lins F, Gomez Marroquin MC, Contrucci M |
| Publisher: | Flogen Star OUTREACH |
| Publication Year: | 2016 |
| Pages: | 320 pages |
| ISBN: | 978-1-987820-37-9 |
| ISSN: | 2291-1227 (Metals and Materials Processing in a Clean Environment Series) |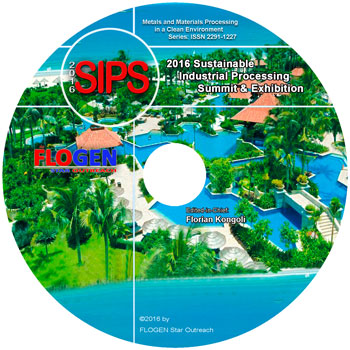 CD shopping page
Study on self-pulverization of converter steel slag

Jue Wang1; Liushun Wu2; Yuanchi Dong1; Gao Wei3; Xie Da-Wei3;
1ANHUI UNIVERSITY OF TECHOLOGY, Ma'anshan, China; 2, Ma'anshan, China; 3SCHOOL OF METALLURGICAL ENGINEERING, ANHUI UNIVERSITY OF TECHNOLOGY, Maanshan, China;
Type of Paper: Regular
Id Paper: 164
Topic: 2

Abstract:

Converter steel slag is a by-product of the processing from iron to steel, more than 100 million tons were produced in China every year. Reusing these slags as a recycled material can be regarded as a way to reduce environmental pollution and consumption of natural materials. However, the poor grindability caused by complex chemical composition and microstructure of converter steel slag makes it very difficult to be recycled. Converter steel slag contains 30-60% polymorph dicalcium silicate (C2S), whose crystal structure can be changed from 再-C2S to 再-C2S at the certain temperature, accompanied by 11% volume expansion, which could result in self-pulverization of steel slag. In the research, the influencing factors on steel slag self-pulverization were studied using XRD spectral fitting refinement method and thermodynamic equilibrium calculations. The P content in steel slag has a remarkable effect on steel slag self-pulverization, the carbothermal reduction has been introduced to reduce the effect of P on self-pulverization. The results provide a theoretical basis and composition conditions for grindability improvement of steel slag and expand its utilization.

Keywords:

Modifier; Recovery; Recycling; Slag; Sustainability;


Full Text:

Click here to access the Full Text

Cite this article as:

Wang J, Wu L, Dong Y, Wei G, Da-Wei X. Study on self-pulverization of converter steel slag. In: Kongoli F, Noldin JH, Takano C, Lins F, Gomez Marroquin MC, Contrucci M, editors. Sustainable Industrial Processing Summit SIPS 2016 Volume 1: D'Abreu Intl. Symp. / Iron and Steel Making. Volume 1. Montreal(Canada): FLOGEN Star Outreach. 2016. p. 262-265.