2016-Sustainable Industrial Processing Summit
SIPS 2016 Volume 1: D'Abreu Intl. Symp. / Iron and Steel Making
| | |
| --- | --- |
| Editors: | Kongoli F, Noldin JH, Takano C, Lins F, Gomez Marroquin MC, Contrucci M |
| Publisher: | Flogen Star OUTREACH |
| Publication Year: | 2016 |
| Pages: | 320 pages |
| ISBN: | 978-1-987820-37-9 |
| ISSN: | 2291-1227 (Metals and Materials Processing in a Clean Environment Series) |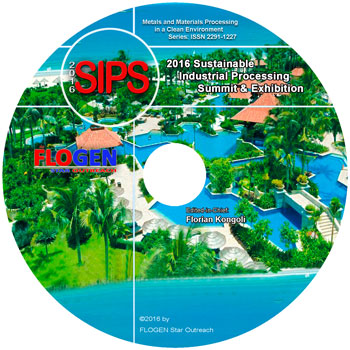 CD shopping page
Zinc Behavior During Hydrogen Reduction Of Zinc And Iron Oxides Mixture

Eduardo Brocchi1; Rogerio Navarro Siqueira2; Pamela Fernandes Oliveira Barreto2; Marcelo Motta3;
1PUC-RIO, Rio de Janeiro, Brazil; 2PONTIFICAL CATHOLIC UNIVERSITY OF RIO DE JANEIRO, RIO DE JANEIRO, Brazil; 3BASCK LTD, Cambridge, Great Britain;
Type of Paper: Invited
Id Paper: 316
Topic: 2

Abstract:

Zinc is a metal of significant technological importance and its production from secondary sources has motivated the development of alternative processes, such as those dedicated to the recovery of electrical arc furnace (EAF) dust by carbon. At present, the extraction of zinc from the mentioned residue using a carbon content reducing agent is being established technically in large scale. In the present work, an alternative hydrogen reduction of a synthetic oxide mixture with EAF dust analogous composition was thermodynamically and kinetically investigated. The results confirm that the reduction process is viable for temperatures higher than 1123 K with all zinc metal being transferred to the gas stream, favoring its complete separation from iron. The same reaction in the presence of zinc crystals, aiming to hinder Zn volatilization by increasing this metal partial pressure, was considered for synthesizing FeZn alloy, but with little success. However, the possibility of reducing zinc selectively from an EAF dust sample through a H2 constant flux in a horizontal furnace was observed and zinc metal was collected in a "cold-finger" condenser adapted at one end of the furnace inner ceramic tube.

Keywords:

Zinc; Hydrogen reduction


Full Text:

Click here to access the Full Text

Cite this article as:

Brocchi E, Siqueira R, Oliveira Barreto P, Motta M. Zinc Behavior During Hydrogen Reduction Of Zinc And Iron Oxides Mixture. In: Kongoli F, Noldin JH, Takano C, Lins F, Gomez Marroquin MC, Contrucci M, editors. Sustainable Industrial Processing Summit SIPS 2016 Volume 1: D'Abreu Intl. Symp. / Iron and Steel Making. Volume 1. Montreal(Canada): FLOGEN Star Outreach. 2016. p. 230-231.