2016-Sustainable Industrial Processing Summit
SIPS 2016 Volume 1: D'Abreu Intl. Symp. / Iron and Steel Making
| | |
| --- | --- |
| Editors: | Kongoli F, Noldin JH, Takano C, Lins F, Gomez Marroquin MC, Contrucci M |
| Publisher: | Flogen Star OUTREACH |
| Publication Year: | 2016 |
| Pages: | 320 pages |
| ISBN: | 978-1-987820-37-9 |
| ISSN: | 2291-1227 (Metals and Materials Processing in a Clean Environment Series) |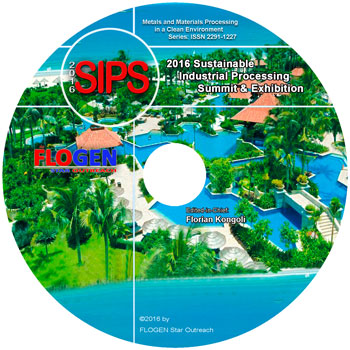 CD shopping page
Modification of molten steel slag for cement manufacturing

Joao Batista Ferreira Neto1; Tiago Ribeiro1; Fabiano Chotoli1; Valdecir Quarcioni1; Joao Faria1; Catia Fredericci1;
1INSTITUTE FOR TECHNOLOGICAL RESEARCH, Sao Paulo, Brazil;
Type of Paper: Regular
Id Paper: 335
Topic: 2

Abstract:

Steel slag may be an alternative as cement mineral admixture, partially substituting the BF slag. A pyrometallurgical process has been investigated to promote the chemical composition modification of molten steelmaking slag in slag pot. Experiments were carried out by remelting 300 kg of steel slag followed by chemical modification of liquid slag. The modified slags were naturally cooled in the slag pot or cooled by steel balls. XRD and SEM analysis of slag samples showed a relationship among chemical composition, cooling condition and amorphous and crystalline phases. Cement samples were produced by mixing 25% of treated steelmaking slag with 75% of Portland cement, resulting in more than 280 J/g of accumulated hydration heat in 72 h, expansion lower than 0,5 mm and compressive strength higher than 28 MPa and 35 MPa after 1 and 7 days, respectively. The process shows potential to be applied as a steelmaking slag treatment.

Keywords:

Cement; Slag;


Full Text:

Click here to access the Full Text

Cite this article as:

Ferreira Neto J, Ribeiro T, Chotoli F, Quarcioni V, Faria J, Fredericci C. Modification of molten steel slag for cement manufacturing. In: Kongoli F, Noldin JH, Takano C, Lins F, Gomez Marroquin MC, Contrucci M, editors. Sustainable Industrial Processing Summit SIPS 2016 Volume 1: D'Abreu Intl. Symp. / Iron and Steel Making. Volume 1. Montreal(Canada): FLOGEN Star Outreach. 2016. p. 309-310.