2016-Sustainable Industrial Processing Summit
SIPS 2016 Volume 1: D'Abreu Intl. Symp. / Iron and Steel Making
| | |
| --- | --- |
| Editors: | Kongoli F, Noldin JH, Takano C, Lins F, Gomez Marroquin MC, Contrucci M |
| Publisher: | Flogen Star OUTREACH |
| Publication Year: | 2016 |
| Pages: | 320 pages |
| ISBN: | 978-1-987820-37-9 |
| ISSN: | 2291-1227 (Metals and Materials Processing in a Clean Environment Series) |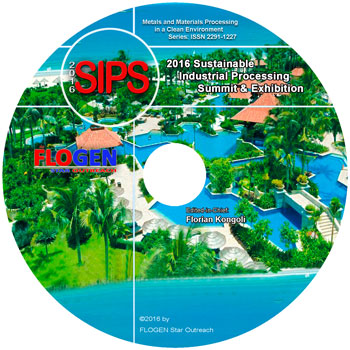 CD shopping page
Super-Hydrophilic Ni-TiO2/TiO2 Multilayer Coating as an Active Photo-catalyst

Soha Mohajeri1;
1SHARIF UNIVERSITY OF TECHNOLOGY, Tehran, Iran (Islamic Republic of Iran);
Type of Paper: Regular
Id Paper: 458
Topic: 2

Abstract:

The Ni-TiO2/TiO2 multilayer which was composed of TiO2 and Ni-TiO2 monolayers was fabricated by the pulse electrodeposition technique. The nanostructured composite was annealed at 450°C for 3 hours, and the surface and cross-sectional morphologies of the coating were characterized using scanning electron microscopy (SEM) and field emission scanning electron microscopy (FESEM). Hydrophilicity and wettability of the multilayer were investigated under UV illumination and the water contact angle was measured. Surface hydroxyl groups density which accounts for the photoinduced hydrophilicity of the coating was defined by X-ray photoelectron spectroscopy (XPS), before and after UV illumination. The results indicated that in the optimized condition, the water contact angle of the coating reduced to 7.23° after 1 hour of UV irradiation and a 16% increase was detected in the density of hydroxyl groups. The photocatalytic activity of the coating was characterized by the degradation test of methyl orange and it was confirmed that TiO2 content, irradiation duration and sintering temperature affect the photocatalytic efficiency of the coating and the multilayer was capable of disintegrating the methyl orange up to 53.64% after 5 hours of UV illumination. The photoelectrocatalytic degradation of methyl orange using Ni-TiO2/TiO2 multilayer coating was studied and the effect of different applied potentials was determined. The amount of methyl orange degraded by multilayer under the anodic potential of 600 mV along with 2 hours of simultaneous UV illumination was 97.22%.

Keywords:

Nanostructure; Cross-Sectional Morphologies


Full Text:

Click here to access the Full Text

Cite this article as:

Mohajeri S. Super-Hydrophilic Ni-TiO2/TiO2 Multilayer Coating as an Active Photo-catalyst. In: Kongoli F, Noldin JH, Takano C, Lins F, Gomez Marroquin MC, Contrucci M, editors. Sustainable Industrial Processing Summit SIPS 2016 Volume 1: D'Abreu Intl. Symp. / Iron and Steel Making. Volume 1. Montreal(Canada): FLOGEN Star Outreach. 2016. p. 83-84.