2016-Sustainable Industrial Processing Summit
SIPS 2016 Volume 9: Molten Salts and Ionic Liquids, Energy Production
| | |
| --- | --- |
| Editors: | Kongoli F, Gaune-Escard M, Turna T, Mauntz M, Dodds H.L. |
| Publisher: | Flogen Star OUTREACH |
| Publication Year: | 2016 |
| Pages: | 390 pages |
| ISBN: | 978-1-987820-24-9 |
| ISSN: | 2291-1227 (Metals and Materials Processing in a Clean Environment Series) |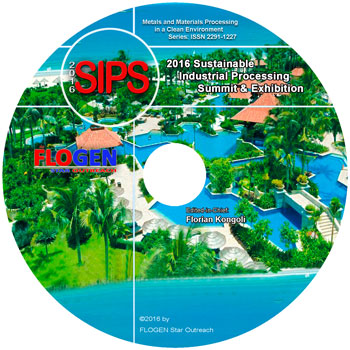 CD shopping page
Direct Carbon Oxidation In Fuel Cells - DCFC

Alexander Lipilin1;
1INSTITUTE OF ELECTROPHYSICS UD RAS, Ekaterinburg, Russian Federation;
Type of Paper: Regular
Id Paper: 206
Topic: 17

Abstract:

Solid oxide fuel cells have always been focused on highly efficient converting of chemical energy of solid fuels – from coal to electrical energy [1. Technically, this problem is solved by using a liquid anode based on salt melt and the introduction of powder into the melt of solid fuels – into coal. These fuel cells for direct oxidation of coal are usually called - Direct Carbon Fuel Cells (DCFC). Laboratory tests for 1200 h showed the possibility of obtaining at temperatures of 800 - 950OC power density of more than 300 mW/cm2. The concept of the multi-element battery was experimentally tested. As a result of this work, it has been shown that the power plant for the direct oxidation of coal in solid oxide fuel cells - DCFC can be implemented with the specific characteristics of up to 20 kWh / l and with an efficiency of 70%.

Keywords:

Electric; Electrochemical; Energy; Fuels; Gas; Direct oxidation of coal (DCFC); SOFC; Solid electrolyte - YSZ; The cathode - the lanthanum strontium manganite (LSM); A liquid anode - molten salts;


Full Text:

Click here to access the Full Text

Cite this article as:

Lipilin A. Direct Carbon Oxidation In Fuel Cells - DCFC. In: Kongoli F, Gaune-Escard M, Turna T, Mauntz M, Dodds H.L., editors. Sustainable Industrial Processing Summit SIPS 2016 Volume 9: Molten Salts and Ionic Liquids, Energy Production. Volume 9. Montreal(Canada): FLOGEN Star Outreach. 2016. p. 219-220.