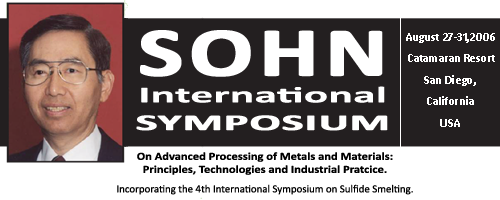 Sponsors

This meeting is sponsored by the Extraction & Processing Division of The Minerals, Metals & Materials Society (TMS), in conjunction with the following TMS committees:

Aqueous Processing Committee
Copper, Nickel, Cobalt Committee
Materials Characterization
Process Fundamentals Committee
Process Modeling, Analysis and Control Committee
Pyrometallurgy Committee
Recycling Committee
Waste Treatment and Minimization Committee

CO-SPONSORING SOCIETIES & ORGANIZATIONS

The Sohn International Symposium is cosponsored by a growing list of 100 professional organizations around the globe and major industrial companies in nonferrous, iron and steel production.

Afgevaardigd-beheerder Technologisch Instituut vzw, Belgium
The American Ceramic Society (ACerS)
The American Foundry Society (AFS)
American Institute of Chemical Engineers (AIChE)
APMI International
ASM International
Asociacion Argentina de Materiales (SAM)
The Association for Iron & Steel Technology (AIST)
Associazione Italiana di Metallurgia (AIM)
The Austrian Society for Metallurgy and Materials (ASMET)
The Australasian Institute of Mining and Metallurgy (AusIMM)
Benelux Metallurgie
Beijing General Research Institute of Mining & Metallurgy (BGRIMM)
Brazilian Association for Materials and Metallurgy (ABM)
Brunei Darussalam Institute of Chemistry
Ceramic Society of Japan (CerSJ)
Chemical Society of Japan
Chemical Society of Pakistan
Chemical Society of Peru
The Chemical Society of Thailand
Chilean Chemical Society
The Chinese Society for Metals (CSM)
Cobalt Development Institute (CDI)
Colegio de Ingenieros de Chile
CSIRO, Australia
Czech Society for New Materials and Technologies (CSNMT)
Danish Metallurgical Society (DMS)
Danish Ceramic Society
Danish Chemical Society
The Electrochemical Society (ECS)
The Electrochemical Society of Japan (DMS)
Engineering Conferences International (ECI)
Eurometaux
European Ceramic Society
The Federation of European Materials Societies (FEMS)
The Finnish Association of Mining and Metallurgical Engineers
Société Française de Métallurgie et de Matériaux (SF2M)
Georgian Ceramic Society
German Society for Mining, Metallurgy, Resource and Environmental Technology (GDMB)
Gintsvetmet Institute
Gipronickel Institute, JS
Hellenic Ceramic Society (HCS)
The Indian Institute of Metals (IIM)
Institute of Materials Engineering Australasia (IMEA)
Institute for Nonferrous and Rare Metals (IMNR)
The Institute of Materials, Minerals and Mining (IOM3)
Institute of Metals and Technology (IMT)
Institute of Non-Ferrous Metals (INM)
International Aluminium Institute (IAI)
International Energy Foundation (IEF)
Instituto Argentino de Siderurgia (IAS)
Integrated Chemists of the Philippines
The International Lead Zinc Research Organization, Inc. (ILZAO)
The Iron and Steel Institute of Japan (ISIJ)
The Israel Chemical Society (ICS)
The Japan Institute of Metals (JIM)
Jordanian Chemical Society
The Korean Academy of Science and Technology (KAST)
Korean Chemical Society
Korean Institute of Chemical Engineers (KIChE)
The Korean Institute of Metals and Materials (KIM)
Malaysian Institute of Chemistry
Materials Research Society (MRS)
Materials Society of Portugal (SPM)
Mexican Academy of Materials Sciences (MRS) [Academis Mexicana de Ciencia de Materiales]
Minerals Engineering International (MEI)
The Metallurgical Society of CIM
The Mining and Materials Processing Institute of Japan (MMIJ)
The Nonferrous Metals Society of China (NFSoc)
The North American Thermal Analysis Society (NATAS)
The Polish Association of Metallurgical Engineers and Technicians (SITPH)
The Portugese Chemical Society (SPQ)
Slovenian Ceramics Society (SCS)
Slovenian Society of Materials (SDM)
Slovak Metallurgical Society (SMS)
Société Française de Chimie
Societe Royale de Chimie, (SRC) (SME)
Society for Mining, Metallurgy, and Exploration (SME)
Society of Chemical Engineering Japan
The South African Institute of Mining and Metallurgy (SAIMM)
Swedish Society for Materials Technology (SFMT)
Swedish Steel Producers Association (Jernkontoret)

INDEPENDENT JOURNALS AND PUBLISHERS CO-SPONSORS

CORPORATE CO-SPONSORS

PERSONAL SPONSOR

John Floyd, Australia

SPONSORSHIP OPPORTUNITIES

A number of attractive sponsorship options for Sohn International Symposium are available. Complete details are available on the Corporate Sponsorship/Donation Form, which can be downloaded in portable document format and printed and viewed using Adobe Acrobat. Sponsorship questions should be directed to:

The Minerals, Metals & Materials Society, Inc.
184 Thorn Hill Road
Warrendale, PA 15086 USA
E-mail: Exhibits@tms.org
Phone: (724) 776-9000
Fax: (724) 776-2053

SIPS is the flagship event of FLOGEN STAR OUTREACH, a not-for-profit, non-political and all-inclusive science organization. SIPS as well as FLOGEN STARS OUTREACH takes no sides in political, scientific or technological debates. We equally welcome, without reservations, all spectrum of ideas, theories, technologies and related debates. Statements and opinions expressed are those of individuals and/or groups only and do not necessary reflect the opinions of FLOGEN, its sponsors or supporters.
© Copyright FLOGEN 2001 - 2023