Tours and Events
To sign up for one of the following tours, complete the Tour Registration Form and submit by August 5, 2006. Tours depart from the Catamaran Resort Lobby.
EVENTS
Welcoming Reception
Sunday, August 27
6 to 8 p.m.
Beach North Area, Catamaran Resort

Session Breaks
Morning/Afternoon
Outside the Technical Session Rooms

Symposium Banquet
Monday, August 28
6:30 to 10:30 p.m.
Bahia Hotel
Member, authors and nonmember attendees may attend for free. Guests and students may purchase tickets at a cost of $65 each. Tickets may be ordered on the registration form; advance purchase is encouraged.

Closing Reception
Wednesday, August 30
6 to 8 p.m.
Beach North Area, Catamaran Resort

LIFESTYLE LA JOLLA
Date: Monday, August 28
Time: 9 a.m. to 12:30 p.m.
Cost: $34 per person

La Jolla is a scenic village located on seven miles of sandy beaches, cliffs and caves. It is a combination of a Mediterranean resort atmosphere and Southern California. La Jolla's Prospect Street is known locally for its upscale boutiques, brimming with designer clothing, jewelry, art and antiques. Cafes and elegant restaurants complement the sunsets over the Pacific Ocean. This seaside town is home to the UCSD-Scripps Institution of Oceanography, Stephen Birch Aquarium & Museum, Torrey Pines State Park, Torrey Pines Golf Course, the San Diego Museum of Contemporary Art and the Tony-Award-winning La Jolla Playhouse.
CORONADO CHARM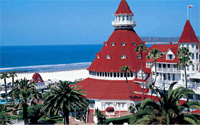 Date: Tuesday, August 29
Time: 9 a.m. to 1 p.m.
Cost: $45 per person

Rich in history and an ocean village atmosphere, Coronado's royal nickname is the Crown City. Bordered by the Pacific Ocean, Glorietta Bay and San Diego Bay, this seaside city is linked to the Southern California coastline and the city of San Diego by the stately San Diego - Coronado Bridge, and to the south by a narrow strip of land known as the Silver Strand.

Guests enjoy Coronado's architecture and history during a narrated walking tour. The tour begins at the Hotel del Coronado's clock tower. More than 100 years old, "The Del" sits on a beach along the Pacific Ocean. Guests then visit the home of Wallis Simpson, Duchess of Windsor; the home of Frank Baum, author of the "Wizard of Oz"; and the mansion of sugar magnate John Spreckels. Quaint shops, cafes and galleries are within easy walking distance along Orange Avenue as well as the Coronado Ferry Landing's boutique stores.
MIDWAY AIRCRAFT CARRIER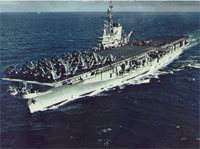 Date: Wednesday, August 30
Time: 9 a.m. to 1 p.m.
Cost: $47 per person

This United States Naval Aircraft Carrier has been converted into a multi-dimensional, interactive, educational and entertainment destination and is one of the only museums of its kind on the west coast. The Midway's final tour of duty, after 47 years, is on the south side of Navy Pier in San Diego. She serves as the cornerstone of the revitalized North Embarcadero, the gateway to downtown. The Midway accompanies the Star of India and other historic and visitor attractions along the waterfront. And, perhaps most importantly, she serves as a poignant and compelling tribute to the hundreds of thousands of men and women who have embarked from Navy Pier in service to their country. Guests may come aboard and learn about one of the true icons of the U.S. Navy in the latter half of the 20th century at the Midway Museum!