---
Brazil Airline Connections
The summit has established agreements with several airlines to provide special discounts for SIPS 2018 Attendees. Full details are below:
---

Up to 15% discount with SkyTeam
The airlines of SkyTeam, Official Alliance Network for SIPS2018, offer exclusive discounts of up to 15% on all SkyTeam airlines. SkyTeam comprises 20 world-class carriers, including Aeroflot, AeroMexico, AirEuropa, China Airlines, Delta, KLM, and Korean Air, and serves 1057 destinations in 179 countries with 16,270 daily flights. To benefit from special offers, click on the SkyTeam icon for the SIPS 2018 booking portal, or visit www.skyteam.com/globalmeetings and enter our unique Event ID.

Event ID: 3832S
Travel Valid Period: 30-Oct-2018 to 12-NOV-2018
---
Air Canada is the official Canadian airline for SIPS 2018. Special Rates are guaranteed by Air Canada for all attendees of the symposium. Take note that the code is valid from October 28, 2018 to November 14, 2018. To book a flight the attendees need to access www.aircanada.com and enter the following promotion codes in the search panel.

Promotion codes: 4NPFKKA1
Travel Valid Period: October 28, 2018 to November 14, 2018
---


Attractive discounts, up to -15%, on a wide range of public fares on all AIR FRANCE, KLM and their code-shared flights worldwide.
Event: SIPS 2018 Sustainable Industrial Processing Summit
ID Code: 32895AF
Travel Valid Period: 30/10/2018 to 12/11/2018

Please visit the event website or access directly through http://globalmeetings.airfranceklm.com/Search/promoDefault.aspx?vendor=AFR&promocode=32895AF
---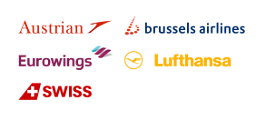 Lufthansa Group Partner Airlines offer a comprehensive global route network linking major cities around the world. We offer special prices and conditions to participants, visitors, exhibitors, invited guests as well as employees of the Contracting partner and their travel companions. To make a reservation, please click on www.lh.com/event-flight-booking and enter the access code CAZJELN in the "Offer for discounted flights" area. This will open an online booking platform that will automatically calculate the discount offered or provide you with an even better offer if another promotional fare is available. ID Code: CAZJELN
Travel Valid Period: 28-OCT-2018 to 14-NOV-2018

---
::GROUND TRANSPORTATION
Coming Soon!