Dr Janez Potocnik, European Commissioner for Environment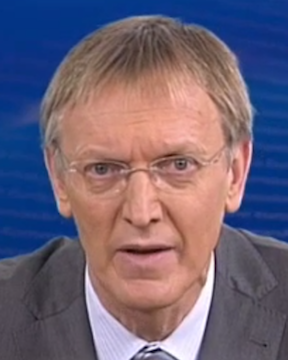 About:
Dr Janez Potocnik was born in 1958. He graduated with honours from the Faculty of Economics at the University of Ljubljana. He continued his studies at the same University where he did his Master's degree in 1989 and a Ph.D. degree in 1993.
For several years (1989-1993), he worked as a researcher at the Institute of Economic Research in Ljubljana. In July 1994, he was appointed Director of the Institute of Macroeconomic Analysis and Development of the Republic of Slovenia. In April 1998, the Government of the Republic of Slovenia appointed Dr Potocnik Head of Negotiating Team for Accession of the Republic of Slovenia to the European Union. From June 2000 to December 2000, he was also the acting director of Government Office for European Affairs. In June 2001, he was appointed a Minister Councillor at the Office of the Prime Minister. On January 24, 2002, the Government of the Republic of Slovenia appointed him for the Minister without portfolio responsible for European Affairs.
From 1991 until 2004 Dr Potocnik has also been an assistant professor at the Faculty of Law at the University of Ljubljana, where he lectured on statistics and economy.
Dr Potocnik became a Member of the European Commission on the May 1 2004. In his first mandate (2004-2009) he was responsible for the Science and Research. In February 2010 he started a second mandate as a Commissioner for Environment.
In May 2008 he was awarded the honorary degree of Doctor of Science by London Imperial College. In March 2009 he received the honorary degree from Ghent University (Belgium). More information at http://ec.europa.eu/commission_2010-2014/potocnik/index_en.htm
Major Sustainability Achievement
A major achievement of Dr. Potocnik his leadership role in developing and establishing Roadmap for a resource-efficient Europe whose framework and short description will be given below:
Europe 2020 is the EU's growth strategy for the coming decade, pushing the EU to become a smart, sustainable and inclusive economy. Under the Europe 2020 strategy the flagship initiative for a resource-efficient Europe points the way towards sustainable growth and supports a shift towards a resource-efficient, low-carbon economy.
One of the building blocks of this initiative is the European Commission's Roadmap for a resource-efficient Europe, a Communication adopted on 20 September 2011:
The Roadmap builds upon and complements the other initiatives under the resource efficiency flagship, in particular the policy achievements towards a low carbon economy. It also takes into account progress made on the 2005 Thematic Strategy on the Sustainable Use of Natural Resources and the EU's strategy on sustainable development.
The Resource Efficiency Roadmap provides a framework in which future actions can be designed and implemented coherently. It sets out a vision for the structural and technological change needed up to 2050, with milestones to be reached by 2020. These milestones illustrate what will be needed to put Europe on a path to resource efficient and sustainable growth.
The Roadmap Communication proposes ways to increase resource productivity and decouple economic growth from resource use and its environmental impact. It explains how policies interrelate and build on each other. Areas where policy action can make a real difference are a particular focus, and specific bottlenecks like inconsistencies in policy and market failures are tackled to ensure that policies are all going in the same direction. Cross-cutting themes such as addressing prices that do not reflect the real costs of resource use and the need for more long-term innovative thinking are also in the spotlight. Key resources are analysed from a life-cycle and value-chain perspective. Nutrition, housing and mobility are the sectors responsible for most environmental impacts; actions in these areas are being proposed to complement existing measures.
Transforming the EU into a more resource efficient economy will require concerted action across a wide range of policies: the Commission proposes to launch a joint effort with stakeholders to work on defining the right indicators and targets for guiding actions and monitoring progress.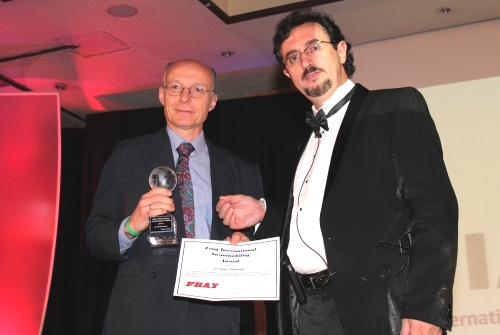 HE S. Vavrik for Hon. Janez Potocnik, Receiving the Fray International Sustainability Award from Dr. Florian Kongoli at FLOGEN SIPS 2011

Hon. Janez Potocnik addresses Dr Florian Kongoli for being granted the FLOGEN SIPS 2011 Fray International Sustainability Award