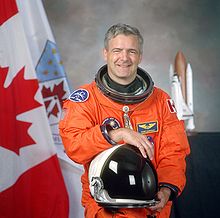 Dr. Marc Garneau, Member of Canadian Parliament, former President of Canadian Space Agency (2001-2006) and former astronaut on the shuttle Challenger in 1984, 1996, 2000 amounting to 677 hours in space, lent support to FLOGEN.

In the letter received on May 7th, 2013 he writes:
---
I am proud to lend my support to Flogen Star Outreach, an international non-profit organization whose purpose is to recognize the outstanding achievements of scientists, engineers and technologists working on sustainable development.
It is important to honour these individuals, who devote their careers to the environment, because our future depends on our ability to meet the technological challenges of sustainability. Flogen Star Outreach took up the task of recognizing these men and women in order to enhance the prestige of engineers and scientists in our society.
For the full copy of the letter please click here.

FLOGEN sincerely thanks Dr. Garneau for this support. Dr. Garneau being a Scientific doctor and a well known astronaut, is also giving his contribution in the political arena as a scientist and engineer. A worthy cause.