Aditya-Birla
About:
A US $35 billion corporation, the Aditya Birla Group is in the League of Fortune 500. It is anchored by an extraordinary force of over 133,000 employees, belonging to 42 different nationalities. Over 60 per cent of its revenues flow from its overseas operations. The Group operates in 36 countries - Australia, Austria, Bangladesh, Brazil, Canada, China, Egypt, France, Germany, Hungary, India, Indonesia, Italy, Ivory Coast, Japan, Korea, Laos, Luxembourg, Malaysia, Myanmar, Philippines, Poland, Russia, Singapore, South Africa, Spain, Sri Lanka, Sweden, Switzerland, Tanzania, Thailand, Turkey, UAE, UK, USA and Vietnam.
Globally, the Aditya Birla Group is a metals powerhouse, among the world's most cost-efficient aluminium and copper producers. Hindalco-Novelis is the largest aluminium rolling company. It is one of the three biggest producers of primary aluminium in Asia, with the largest single location copper smelter. It is No.1 in viscose staple fibre and in carbon black, the fourth-largest producer of insulators, the fifth-largest producer of acrylic fibre and among the top 10 cement producers, the best energy-efficient fertiliser plants and the largest Indian MNC with manufacturing operations in the USA
In India Adytia is a top fashion (branded apparel) and lifestyle player and the second-largest player in viscose filament yarn as well as the largest producer in the chlor-alkali sector. It is among the top three mobile telephony companies, a leading player in life insurance and asset management, the top two supermarket chains in the retail business and the top 10 BPO companies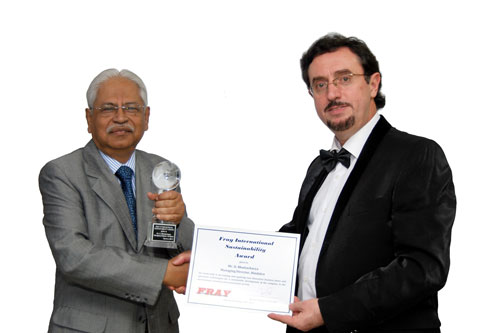 D. Bhattacharya, Receiving the Fray International Sustainability Award from Dr. Florian Kongoli at FLOGEN SIPS 2011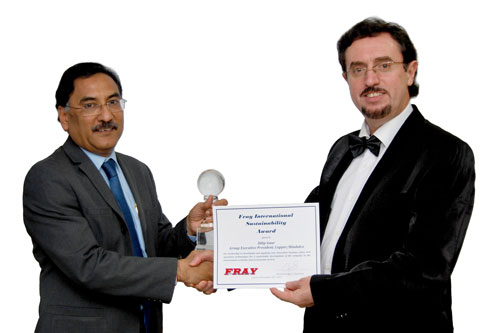 D. Gaur, Receiving the Fray International Sustainability Award from Dr. Florian Kongoli at FLOGEN SIPS 2011
Major Sustainability Achievements:
Developing and Establishing The proactive initiatives that include
Choosing the right technology for our greenfield projects to ensure energy efficiency.
Enhancing material efficiency, process / equipment productivity backed by pollution prevention practices and adoption of cleaner technologies for brownfield projects.
Waste Management System for systematic collection of scrap and safe storage / disposal and re-use of wastes.
Continuous efforts to conserve resources, minimise and recycle wastes.
Controlling emissions through dry scrubbing and electrostatic precipitators and discharge through appropriate effluent treatment plants.
Rehabilitation through afforestation of mined areas and rehabilitation of waste disposal sites by greening, e.g. fly ash mound and abandoned red mud dump.
Promoting industrial recycling of waste like spent pot lining, fly ash, spent caustic, etc.