NIPPON STEEL
About:
Nippon Steel Corporation also referred to as Shinnittetsu was formed in 1970. Nippon Steel Corporation is the world's 4th largest steel producer by volume. Nippon Steel was created by the merger of two giants, Yawata Iron & Steel and Fuji Iron & Steel).
In early 2011, Nippon Steel announced plans to merge with Sumitomo Metal Industries. With Nippon Steel producing ~26.5 million tonnes of steel per year and Sumitomo making ~11 million tonnes, the merged entity would produce close to 37 million tonnes of crude steel per year. This volume of steel output would make Nippon Steel the second largest steelmaker in the world, putting it well ahead of Baosteel - the current number two (making ~31 mt steel / year) - although still well behind ArcelorMittal (who produced 77.5 mt crude steel in 2010).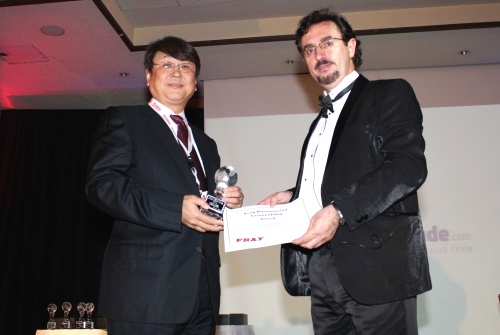 N. Takamatsu, Receiving the Fray International Sustainability Award from Dr. Florian Kongoli at FLOGEN SIPS 2011
Major Sustainability Achievements
Nippon Steel has been addressing environmental issues in an integrated manner as part of the overall management since the establishment of the company, aiming at realizing a sustainable society.
Nippon Steel is, with a long-term perspective looking at 2050, taking the following three approaches; namely,
ECO PROCESS standing for "environmentally sound production processes",
ECO PRODUCTS, meaning "environmentally friendly steel products", and
ECO SOLUTIONS that are "solutions to environmental issues."
Regarding
Eco-Process, following new technologies are established in iron making process:
Reducing RAR of enlarged big blast furnaces by means of :
- Combustibility control of coal Injection
- Improvement of the burden distribution control and burden Qualities like reducibility of sinter, strength of coke and so on
Low quality resources using technology such as High Al2O3 content iron ore by Selected Granulation Technology and Semi coking coal using technology. DAPS
Extremely Low energy consumption and high productivity for coke oven by Scope 21 technology Low emission from sinter plant by DDS( dry Desulfurization System) technology.
Dust recycle by RHF( Rotary Hearth Furnace) technology which can remove Zn for recovering and make reduced Pellet from dust and sludge.
Establish Waste Plastic recycling system using coke oven, which can generate Oil, Clean gas and coke and can recycle 100% from waste plastic.