M. Oscar Gonzalez Rocha/Southern Copper Corporation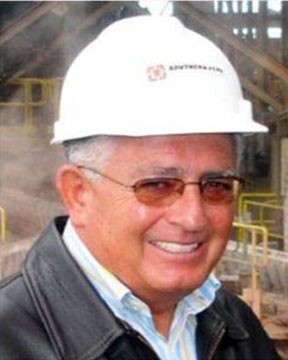 M. Oscar Gonzalez Rocha
In 2013, Harvard Business Review named Oscar Gonzalez Rocha among the 50 Best-Performing CEOs in the World (a list that includes among others Apple CEO, Steve Jobs). The criterion was long term performance in terms of total shareholder returns and the overall increase in market capitalization from the first day in the job until August 2012 (or CEO last day in the job). During 2004-2012, Oscar Gonzalez Rocha achieved a total shareholder return of 530% and an increase of market capitalization of +$ 39 billion. At the same time during this period, Oscar thrived to improve the sustainability of its company in terms of social and environment point of view.
Having spent most of his adult life in mining, Oscar uses the rich experience to describe his today's vision of the mining industry as a sustainable activity assuring at the same time a good growth, improvement of the life of communities and protection of the environment in benefit of stakeholders in any country it operates. The role of technological innovations in sustainability and the government involvement are very interesting parts of his point of view.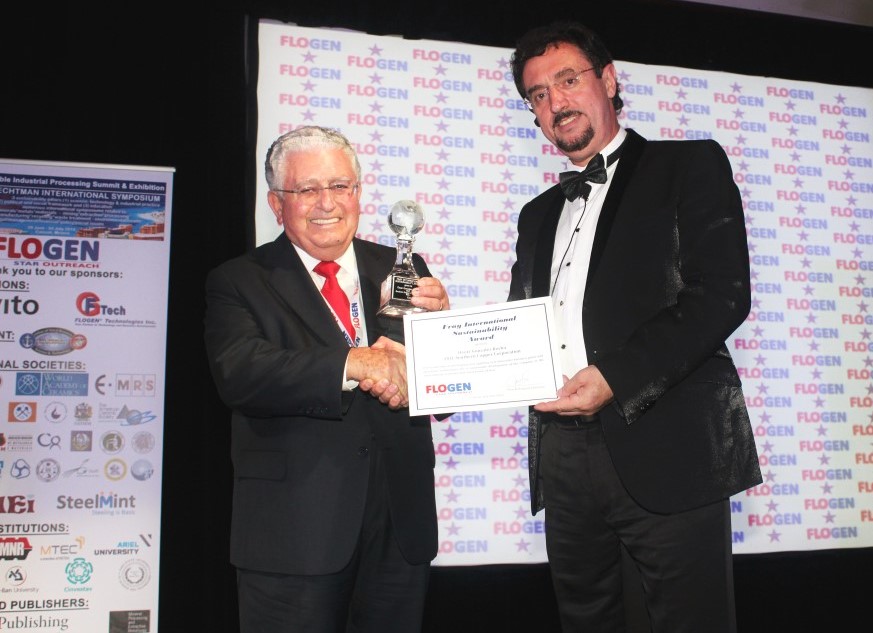 M. Oscar Gonzalez Rocha, Receiving the Fray International Sustainability Award from Dr. Florian Kongoli at FLOGEN SIPS 2014
Acceptance Interview

A conversation between Dr. Florian Kongoli and Oscar Gonzalez Rocha, winner of the FLOGEN SIPS 2014 Fray International Sustainability Award
Curriculum Vitae of M. Oscar Gonzalez Rocha
Southern Copper Corporation
Southern Copper is one of the largest integrated copper producers in the world. It produces copper, molybdenum, zinc and silver. All of its mining, smelting and refining facilities are located in Peru and Mexico and it conducts exploration activities in those countries as well as in Argentina, Chile and Ecuador.
It is believed that Southern Copper has the largest copper reserves in the world. Its operations make it one of the largest mining companies in Peru and Mexico with common stock listed on both the New York and Lima Stock Exchanges since 1996.
Its Mexican operations are conducted through the subsidiary, Minera Mexico S.A. de C.V. ("Minera Mexico"). Minera Mexico engages primarily in the mining and processing of copper, molybdenum, zinc, silver, gold and lead. Minera Mexico operates the "La Caridad unit", an open-pit copper mine, a copper ore concentrator, an SX-EW plant, a smelter, refinery and a rod plant. It operates the Buenavista mine, formerly named Cananea, an open-pit copper mine, which is located at the site of one of the world's largest copper ore deposits, a copper concentrator and three SX-EW plants. In addition, it operates five underground mines that produce zinc, lead, copper, silver and gold. It also owns a coal mine and a zinc refinery.
The Peruvian copper operations involve mining, milling and flotation of copper ore to produce copper concentrates and molybdenum concentrates; the smelting of copper concentrates to produce anode copper; and the refining of anode copper to produce copper cathodes. As part of this production process, it also produces significant amounts of molybdenum concentrate and refined silver.
Growth/Economy
During 2004-2012, Southern Copper achieved a total shareholder return of 530% and an increase of market capitalization of +$ 39 billion. The value generated was distributed to employees, vendors, governments, financial institutions, and other interest groups.
In 2017, Southern Copper Corporation expects to double its production from 617 thousand tons obtained in 2013, to 1,160 thousand tons of copper.
Environment
During 2.013, environmental capital expenditures were 60.7 million dollars spent on the following programs
Water recovery systems to conserve water and minimize impact on nearby streams,
Vegetation programs to stabilize the surface of the tailings dumps and
Implementation of scrubbing technology in the mines to reduce dust emissions.
Social Responsibility
Southern Copper Corporation's social investment program includes health, education, infrastructure and empowerment for the population who live in the regions it operates. One of them is Moquegua in Peru. This region is located three thousand feet above sea level. During the last five years, it reached an agreement with the local authorities to support educational programs, including the provision of information technology equipment. Because of its active participation, the Moquegua region has obtained at national level, the highest recognition in mathematics and communications. The second place was obtained by the Tacna region, where Southern Copper Corporation has been conducting mining activities since 1960.
Technology
Southern Copper utilizes modern, state-of-the-art mining and processing methods, including global positioning systems and computerized mining operations. Its operations have a high level of vertical integration that allows them to manage the entire production process, from the mining of the ore to the production of refined copper and other products and most related transport and logistics functions, using their own facilities, employees and equipment.
Several programs are put in place to Decrease Energy and Decreasing Costs
AWARDS
World Finance Recognition Award.
World Finance, an international business magazine, recognized Southern Copper 2012 $1.5 billion dollars fixed-rate senior unsecured notes as the best international debt issue of the year in the mining industry.
Web Site:
http://www.southernperu.com/ENG/Pages/default.aspx