PARANAPANEMA
About:
Paranapanema is a non-integrated refined copper producer in Brazil and as market leader we have a domestic-market share of about 38% in sales volume terms. It is the second largest semi-manufactured copper producer in Brazil (rolled, bars, tubes, fittings and copper alloys) with a share of around 34% of sales volume in domestic market. In addition, our operations include producing single superphosphate and fertilizers.
It operates in two segments:
Copper Segment
Its Refined Copper and its by-products is the largest non-integrated producer and market leader for refined copper in Brazil in the form of copper cathode, copper rod and copper wire, accounting for about 38% of the domestic volume sales of electrolytic copper in 2010. The volume of production of Caraíba brand in 2010 was 230,000 tons/year of electrolytic copper, and is likely reach around 280,000 tons/year by 2013 compared to operational improvement projects and expanding capacity. Its Semi-manufactured Copper and its alloys, the Eluma brand is the second largest Brazilian producer of semi-manufactured copper and its alloys, such as rolled, bars, tubes and fittings, with a 34% market share of volume sales of copper semis in 2010. Eluma produced around 72,000 tons/year of semi-manufactured copper in 2010, due to a rise to about 130,000 at the end of 2013 as a result of expansion projects.
Fertilizer Segment
Cibrafértil makes single superphosphate and NPK complex fertilizers for agricultural purposes. Its raw materials are the sulfuric acid, a byproduct from the copper processing process at Dias D'Ávila unit and imported phosphate rock. At about 40% (R$ 1.3 billion) of our total net revenues in 2010 came from exports. And of the total net revenue, the copper segment accounts for 98% and the Fertilizer Segment by 2%. It has five plants , one plant producing refined copper in the municipality of Dias D'Ávila - BA, three plants producing semi-manufactured copper and its alloys, which two are located in the municipality of Santo André - SP and one is located in the city of Serra - ES. The plant of Cibrafértil produces Fertilizers compounds and is located in Camacari - BA. On December 31, 2010, the total headcount was 2,330 employees.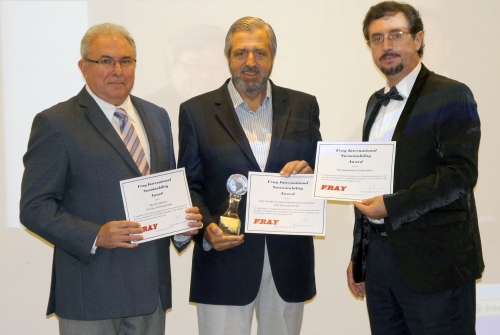 L. Ferraz Jr. & A. Fabrini Jr, Receiving the Fray International Sustainability Award from Dr. Florian Kongoli at FLOGEN SIPS 2012
Major Sustainability Achievements
Developing and establishing its Environmental Management System - SGA. The company, by means of its Environmental Management System - SGA, seeks to advance to the main public matters regarding the ecosystems and the company, whether by means of the performance environmental impact studies in the entire in?uence area, or looking to comply with and overcome the requirements of the legislation in force. SGA is based on the operational units by means of sector procedures and targets, being also the responsible for the advisory support and the demonstration of environmental performance by means of Performance Environmental report
Developing and establishing ENERGIBA, a project intended for optimizing and conserving energy sources, and which is was developed and managed during several years. This project was been added to the others dealing with reducing the volume and taking advantage of waste (RECUPERA), while optimizing the use of water in our industrial processes (AGUAíBA).
Developing and Establishing Eluma Literacy Program, or PAE, so that its employees could conclude their education at the various levels. This program, an adaptation for Eluma of the Integrated Qualification Program, drawn up by the Department for Worker Education, has partnered with Santo André (State of Sao Paulo) city hall, and in its first year of operations 46 students have already graduated at Elementary School I (1st to 4th grades).
Awards
Through the Environment Department, Eluma Division received from the Environment Secretary of the State of Sao Paulo, Mr. Francisco Graziano Neto, the Reforesting Certi? cate, that acknowledges the Environmental Responsibility of the company and demonstrates that in order to minimize the impacts of its production with correct environmental actions.
"Friend of the Recyclable Materials Collector" seal for its intense support for the recycling project of the National Movement of Rubbish Collectors (MNCR) and of the Social and Environmental Studies Center of Bahia, Centro de Estudos Sócio Ambientais da Bahia or PANGEA -, assisting them in the task of raising the awareness of the community and the government towards recognizing the importance of this category, and to foster selective collection, which is the basis that sustains dozens of families.