PASAR
About:
The Philippine Associated Smelting and Refining Corporation owns and operates the only copper smelter and refinery in the Philippines.
PASAR's primary product is electrolytic copper cathode, which the company has been producing for 25 years. Its original copper cathode brand, "PASAR", was registered in 1984 with the London Metal Exchange (LME) as Grade A Copper and in the Commodity Exchange Division of the New York Mercantile Exchange (NYMEX) as COMEX Grade 1 Copper. In 2007, PASAR began the conversion of its tankhouse from conventional starting sheet electrorefining to the ISA Process, which was completed in March 2008. The production of "PASAR" brand cathodes ceased on March 20, 2008. The ISA-type cathodes currently being produced now carry the brand name "PSR ISABEL", which has been registered with the LME as Grade A Copper.
The location of the PASAR copper smelter and refinery in Leyte in the central Philippines has advantages for the company and its partners. Electric power is readily available from renewable sources of energy within the area. PASAR is equipped with its own port, a deep-harbor facility which can accommodate vessels with a displacement of up to 50,000 metric tons (mt). It is a multi-purpose port that is composed of two berths which handle both inbound and outbound cargoes. The smelter and refinery lie at the center of the Philippine archipelago, ready to serve the needs of the country's reviving mining industry.
PASAR's strategic location in the Pacific Rim allows access to copper concentrate supplies from around the world including Indonesia, Papua New Guinea, Canada, Australia, Argentina, Brazil and Chile. Another advantage is its proximity to the refined copper markets of China, Korea, Taiwan, Vietnam, Thailand, Malaysia, Indonesia and Japan.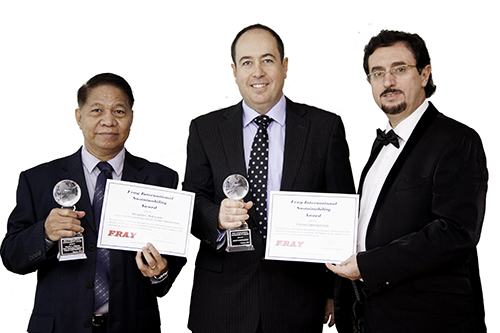 M.C. Malazarte Jr & D.S. Halley, Receiving the Fray International Sustainability Award from Dr. Florian Kongoli at FLOGEN SIPS 2012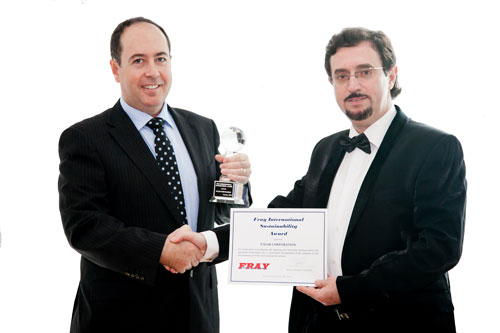 D.S. Halley, Receiving the Fray International Sustainability Award from Dr. Florian Kongoli at FLOGEN SIPS 2012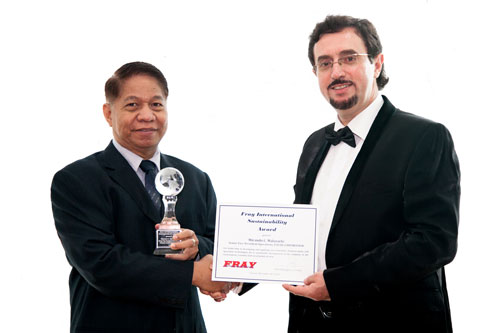 M.C. Malazarte Jr, Receiving the Fray International Sustainability Award from Dr. Florian Kongoli at FLOGEN SIPS 2012
2011 Major Sustainability Achievements:
SO2 reductions within the limits of DENR, a government agency tasked to formulate and implement policies, guidelines, rules and regulations relating to environment management and pollution prevention control. PASAR undergoes inspection and monitoring every quarter to make sure that it follows SO2 emission standard.
Reduction of Flux consumption of about 7,000 MT ( a saving of 5.4 Million Php ) due to application of new control technology
Increased of number of cycles of Pierce Smith Converter from 240 to 300
Improved control of CF reverts inventory
Increase the life of the refractory per cycle
Awards:
May 6, 2010:Outstanding Environment Performers in Category 1B Large Scale Industry :Given to PASAR by the Philippine Economic Zone Authority (PEZA) during its 15th Anniversary and Investors Recognition Night as an Outstanding Environment Performers in Category 1B Large Scale Industry. The PEZA environmental performers awards is given to a locator or investor that has institutionalized its environmental management system, complied with environmental regulations and fostered partnership between the government and agency in caring for the environment while simultaneously sustaining growth.
December 17, 2009:Certificate of Appreciation for Corporate Social Responsibility, given to PASAR by The Department of Labor and Employment (DOLE) and the National Conciliation and Mediation Board (NCMB) "in grateful appreciation and sincere commitment to its Corporate Social Responsibility, particularly in support to DOLE's programs for the promotion and maintenance of industrial peace and its unselfish support for the pro-active participation, efforts and initiatives of its management representatives to the Regional Tripartite Industrial Peace Council (RTIPC) thereby serving as institutional model and inspiration to other private sector employees in the region."
May 22, 2009:Hall of Fame Award for its Outstanding Community Projects : Given PASAR by the Philippine Economic Zone Authority (PEZA) for three consecutive years from 2006, 2007 and 2008. President Arroyo congratulated directly the President of Philippine Associated Smelting and Refining Corp. (PASAR) for the Award.
March 10, 2009:Pag-IBIG Fund PILLAR Awards for Best Employer-Members: Given to PASAR for the continued Pag-IBIG membership of PASAR employees that "has allowed the Fund to reach out to its millions of members, bring its various programs to their doorsteps, and enable it to assist members realize their dream of saving for their future." At the same time, the institution is able to provide partner employer an additional non-wage benefit program available to Pag-IBIG members.
March 2003:Healthiest Working Place in the province of Leyte in 2003 by the Provincial Health Office (PHO): Given to PASAR by The Provincial Health Office (PHO) citing a healthy workplace including a sanitary working environment, wages and welfare benefits to employees, training and manpower development, potable water supply, and health services and programs for employees while at the same time increasing its production output to 171,152 metric tons of copper cathodes from 144,315 metric tons in 2002, the highest production attained since PASAR started commercial operations. During those years the environment program of PASAR geared towards "minimization of discharges, containment and recycling, and proper collection of material waste for conversion to saleable products. The environmental protection equipment such as electrostatic precipitators were installed in the plant to collect dust. This equipment was rehabilitated at a cost of $4.6 million. PASAR has also improved its fugitive gas collection system for its furnaces at a cost of $3.2 million. "This improvement is for better and healthy working conditions for our plant workers.