WESER METALL - Recylex Group
About:
The smelter in Nordenham on the Weser estuary has been producing lead for more than 100 years. Since the installation of the new vertical bath smelting furnace in the middle of the 1990s, Weser-Metall GmbH has been one of the most modern recycling companies in the lead sector. This is clearly highlighted by the use of approx. 70 % lead secondary raw materials (car batteries, etc.), and only approx. 30 % lead concentrates.
Weser-Metall GmbH's corporate philosophy includes optimizing the processes by investment and research, full compliance with occupational safety and environmental protection regulations, and training young people.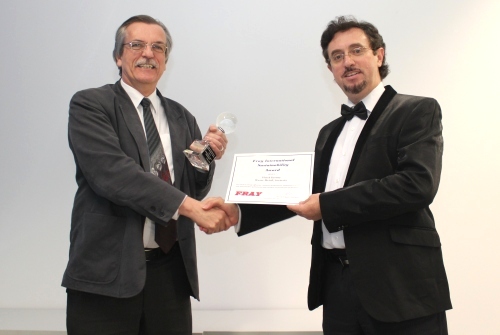 U. Kerney T. Director, Receiving the Fray International Sustainability Award from Dr. Florian Kongoli at FLOGEN SIPS 2012
Major Sustainability Achievements:
Modern state-of-the-art TSL Pb smelting process mainly based on recycling of Pb batteries and other residues
High process efficiency and metal recovery rates due to optimized process control
Perfect preservation of natural resources
Lowest CO2 emissions compared to conventional Pb smelting
Environmentally sound operation with emissions at less than 25 % of permitted level
No-waste-technology: valorization of all contained compounds like sulphur as H2SO4 and Pb oxide concentrate
High energy efficiency by use of waste heat and low power engines and aggregates
Excellent quality and customer performance