Prof. Tateo Usui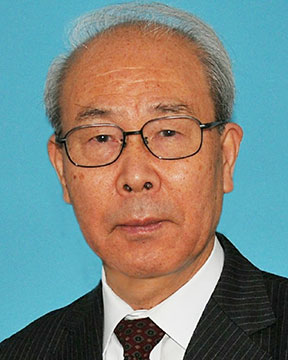 Dr. Tateo Usui was educated at Osaka University, graduating from the Department of Metallurgy in 1969. He subsequently graduated from the Graduate School of Engineering, Osaka University, Department of Metallurgy in 1974 and obtained his Doctorate in Engineering from Osaka University at the same time.
Usui began his career as Assistant Professor in 1974 in Osaka University. He later became the chair of the laboratory he was working in in 1995 after the retirement of Professor Morita in 1994. The title of Professor Emeritus of Osaka University was given after his retirement in 2010. His second career was at Fukui University of Technology from 2010 to 2012.
His research activities began in 1968 during his graduation thesis on Unsteady flow Dynamics in Professor Ohmi's laboratory, and he continued these topics in his master's and Doctorate courses. In the meantime, he also started the topics on the rate enhancement of iron oxide reduction under pulsating flow. It is based on these research activities that he was awarded his degree of Doctor of Engineering, Prize of JSME in 1977, and Nishiyama Commemorative Prize from ISIJ in 1986. His life's work and research activities are summarized as follows:
Fluid Dynamics, Heat and Mass Transfer Analyses in and around a single particle, in a packed bed and reactor
Reduction Behavior of Iron Ore Agglomerates and Kinetic Analyses of their Reaction Rates
Experimental and Kinetic Analyses on Pre-reduction of Iron Oxide Pellets with Coal Carbonization Gas for Minimizing the Amounts of Coal Used in an In-bath smelting Reduction Total Process
Basic Studies on Reduction of Carbon Composite Iron Oxide Pellets using coke, Semi-char, and Semi-charcoal in order to clarify the Rate Enhancement Effect of Residual Volatile Matter
Experimental Studies on Gas-Solid-Liquid Transport Phenomena in the Lower Part of a Blast Furnace by using Cold Models
Basic Studies on Impurity Concentration Control and Purification of Metals for Pig iron Pre-treatment and Steelmaking Reactions
Experimental and Thermodynamical Studies on Environmental Problems, such as CO2 Emission Control in Integrated Steelmaker and Dioxin Emissions Control in Sinter Plants and Combustion Furnaces
Analysis and Control of Carburizing Reaction Rate as well as Basic Studies for Minimizing Hydrocarbon Volume in Carburizing Process of Steel.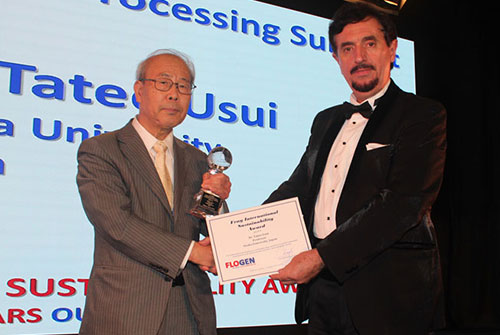 Prof. Tateo Usui, Receiving the Fray International Sustainability Award from Dr. Florian Kongoli at FLOGEN SIPS 2019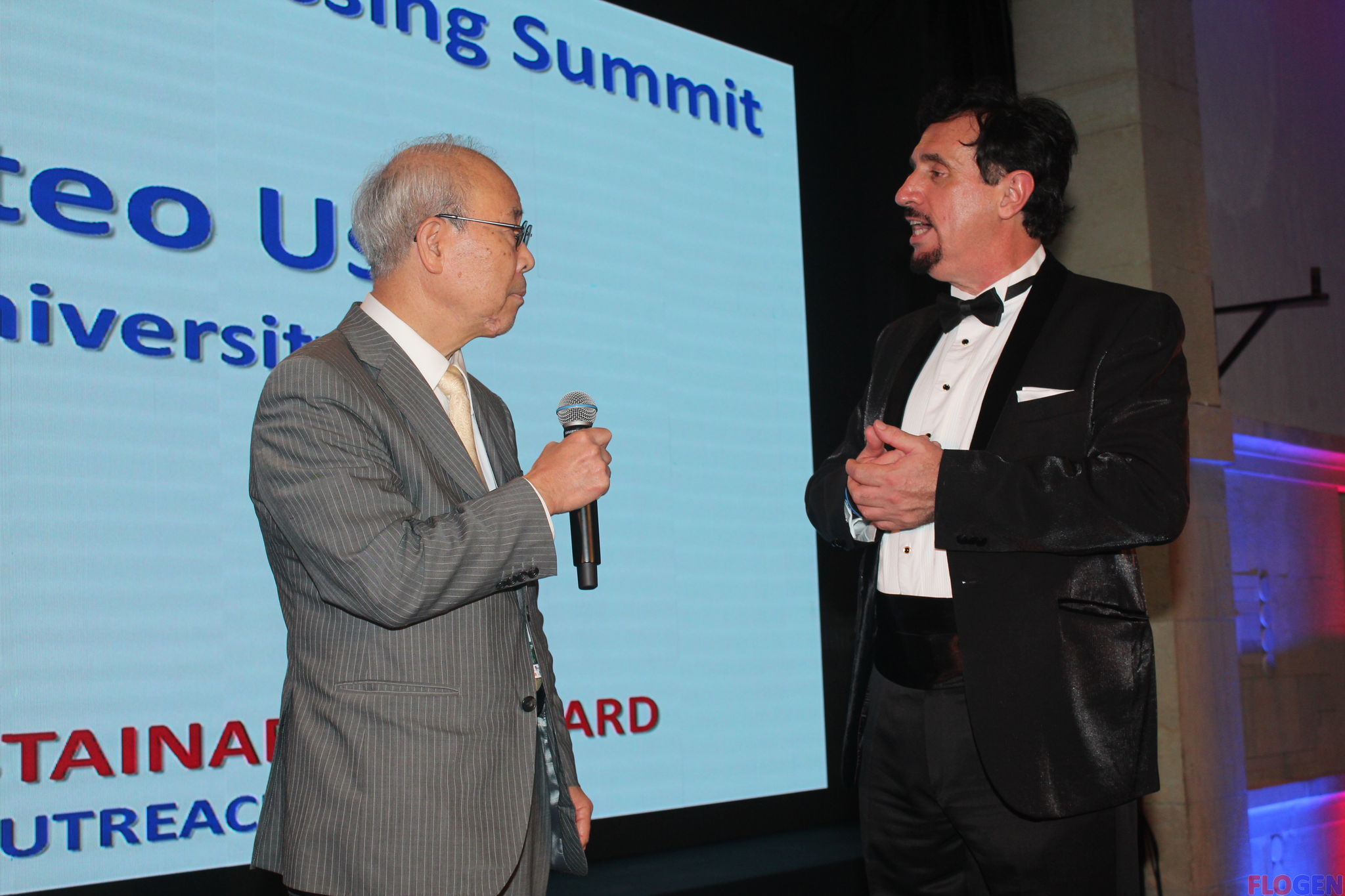 Prof. Tateo Usui, Delivering his acceptance speech during the FLOGEN SIPS 2019 ceremony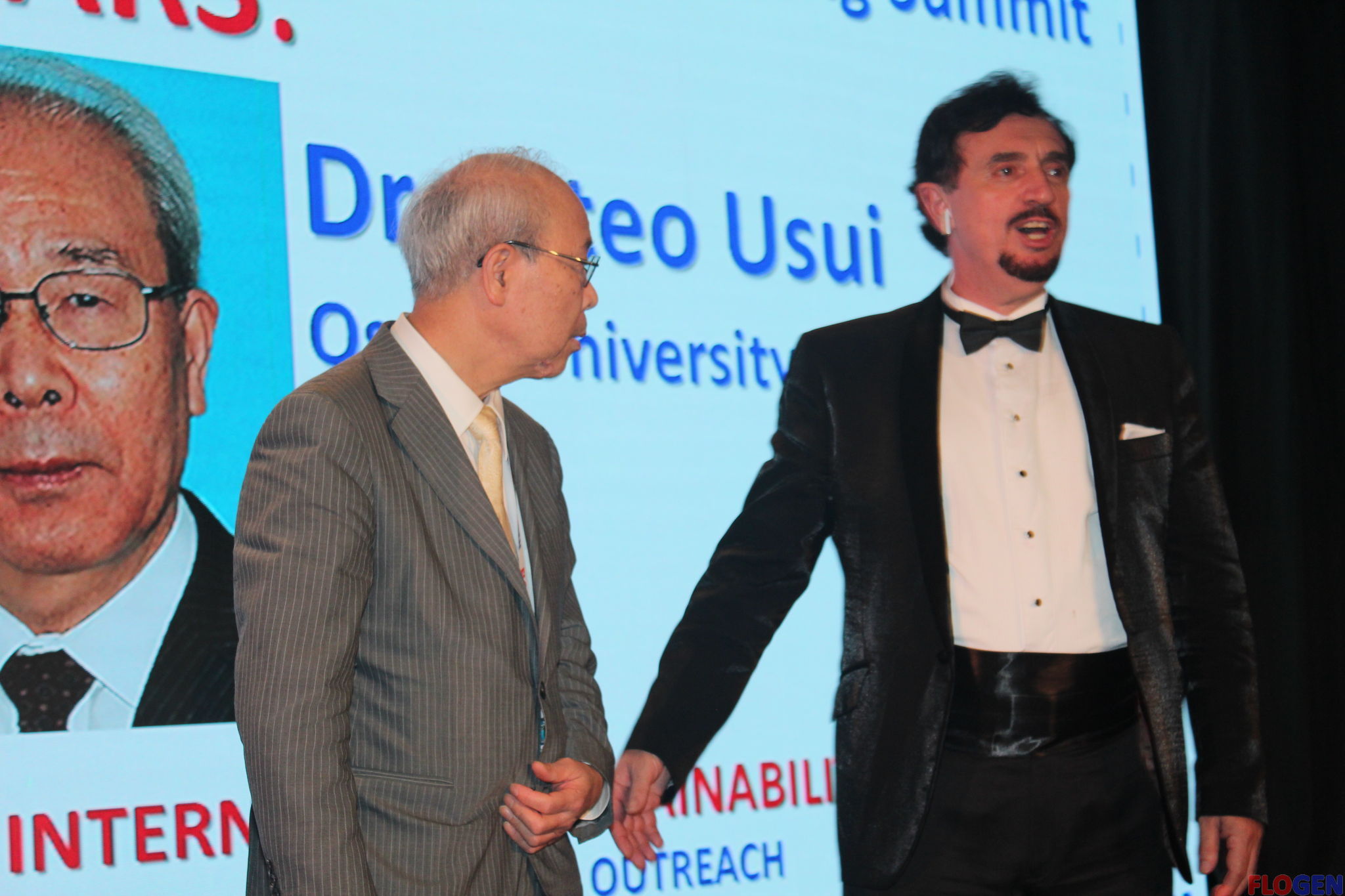 Dr. Florian Kongoli presenting the FLOGEN SIPS 2019 Fray International Sustainability Award to Prof. Tateo Usui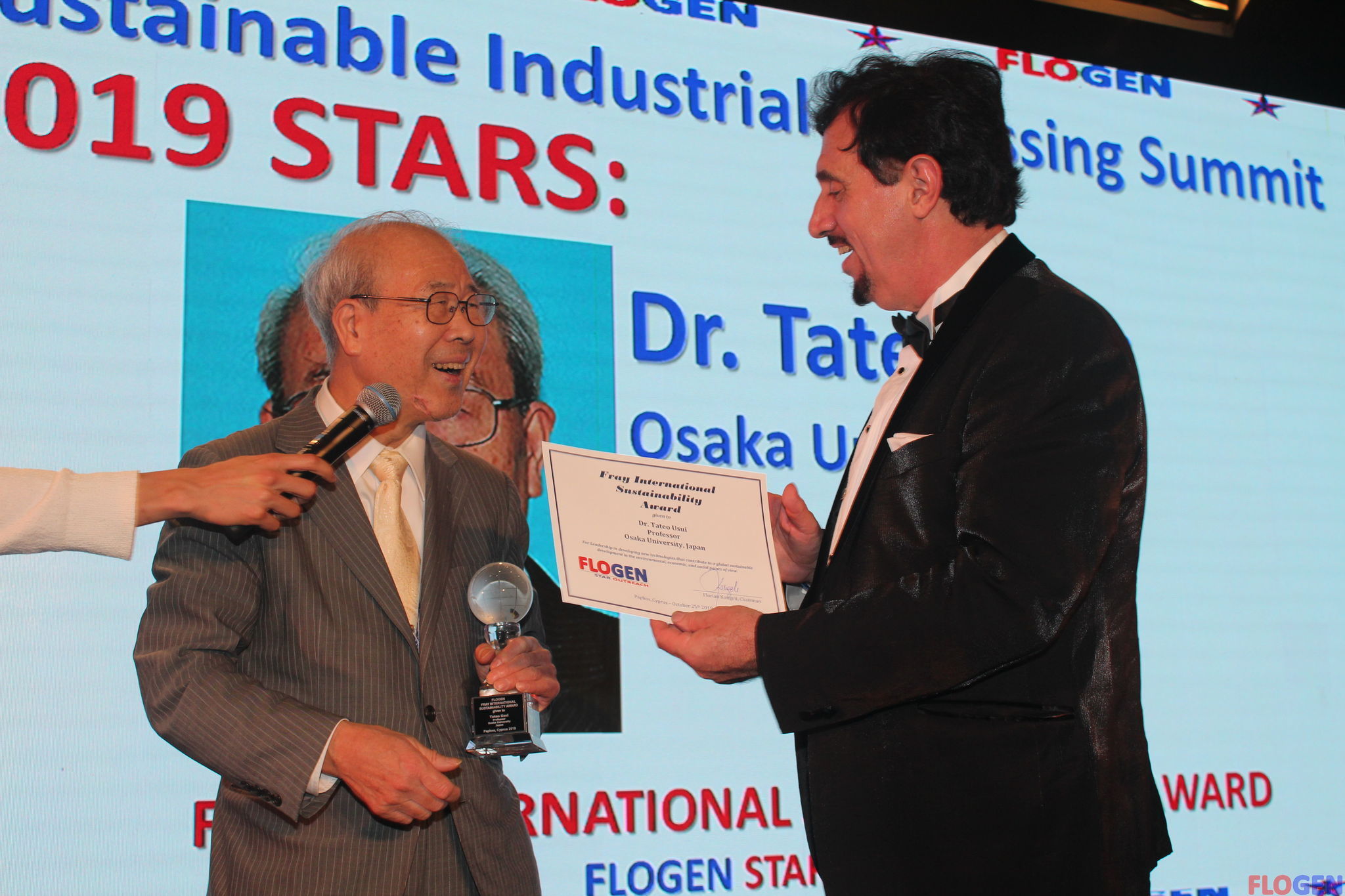 Dr. Florian Kongoli congratulating Prof. Tateo Usui on his award at FLOGEN SIPS 2019

The video Award Ceremony of Prof Tateo Usui at SIPS 2019. Dr Florian Kongoli presides upon the official ceremony

FLOGEN SIPS 2019 Awardees: Prof. Tateo Usui in conversation with Dr Florian Kongoli
Full biography: https://www.flogen.org/sips2019/pdf/Tateo_Usui_Bio.pdf