Fransaer Dirk, Managing Director, VITO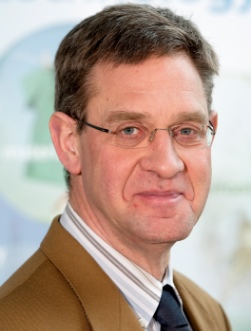 Biography:
Born : in Dendermonde (Belgium) on 9 August, 1958
Nationality : Belgian
Studies :
Civil Construction Engineer July 1980 State University Ghent Great Distinction Biomedical Engineer September 1985 Catholic University Leuven Great Distinction Vlerick Advanced Management Program (2004-2005), Vlerick Leuven Ghent Management School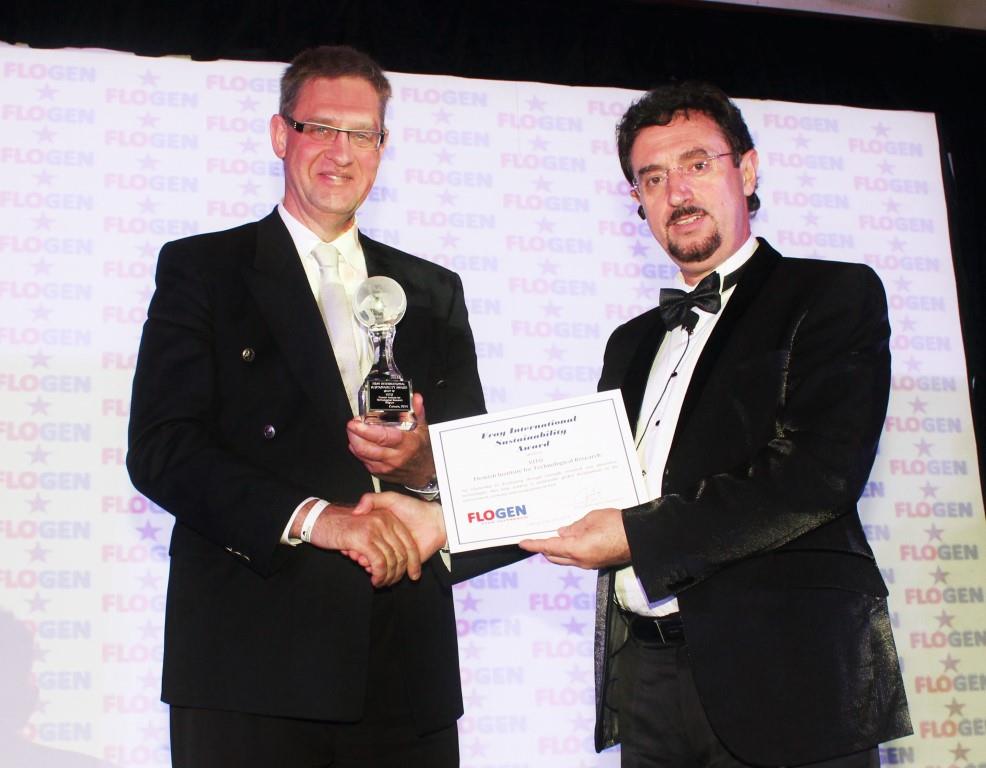 Fransaer Dirk, Receiving the Fray International Sustainability Award from Dr. Florian Kongoli at FLOGEN SIPS 2014
Career:
April 2001 - present: managing director of VITO, the Flemish Institute for Technological Research.
Member of the board of directors of VITO and in charge of the daily management. VITO has over 750 staff and a budget of over 140 MEuro (2014).
February 2014 chairman of the audit committee of the University of Antwerp.
February 2005 - July 2007 part-time Professor at the university of Antwerp on "Sustainable Development" and "Remote Sensing" at the faculty of Bio-engineering.
2003 - 2005, Member of the board of directors of Argex N.V.
2004 - 2010 Chairman of the board of directors of IncGEO vzw, a competence center on behalf of the Flemish Community on remote sensing applications.
September 2010 - July 2012 board member of Vitalo, an international company producing thermomolded packaging.
2005 - 2013, Chairman of the Technological Institute of KVIV, the Royal Flemish Society of university degree Engineers, renamed in 2011 into ie-net vzw.
1986 - 1987 project engineer at TERADEC, research center of Baxter Travenol, an American multinational pharmaceutical company in Nivelles.
1986 - 2000 several managerial positions at Eurosense, a large European remote sensing company
1980 - 1985 assistant professor hydraulics at the university of Ghent
ABOUT VITO, vision on technology
VITO (Flemish Institute for Technological Research) is a leading European independent research and consultancy centre in the areas of cleantech and sustainable development, working on solutions for the large societal challenges of today and tomorrow.

Sustainable chemistry, energy, health, materials management and land use: these are the five focus-topics of VITO. These topics have been set out in five research programmes. They should provide an answer to the challenges that we are confronted with today and in the future. Each programme builds up a strong base of knowledge and skill, with added value for industry and society. The result is new and innovative research and a comprehensive range of scientific services.

In VITO's areas of expertise, a societal transition is taking place or is urgently needed. Smart grids, intensive re-use of resources, a bio-based economy, all these developments require new and better sustainable technologies, as well as a change in mindset. That's why VITO is also focusing on sustainability and transition thinking as binding factors between these research programmes.

VITO supplies innovative and high-quality solutions, whereby large and small companies can gain a competitive advantage, and advises industry and governments on determining their policy for the future.

VITO has over 750 highly-qualified collaborators covering a wide array of specialisms and collaborates with sector federations and their research centres, universities and other research institutes worldwide.