UMICORE
About
Umicore is a global materials technology group. It focuses on application areas where its expertise in materials science, chemistry and metallurgy makes a real difference. Its activities are centred on four business areas: Catalysis, Energy Materials, Performance Materials and Recycling. Each business area is divided into marketfocused business units offering materials and solutions that are at the cutting edge of new technological developments and essential to everyday life.
Umicore generates the majority of its revenues and dedicates most of its R&D efforts to clean technologies, such as emission control catalysts, materials for rechargeable batteries and photovoltaics, fuel cells, and recycling.
Umicore's overriding goal of sustainable value creation is based on an ambition to develop, produce and recycle materials in a way that fulfils its mission: materials for a better life.
The Umicore Group has industrial operations on all continents and serves a global customer base; it generated a turnover of € 14.5 billion (€ 2.3 billion excluding metal) in 2011 and currently employs some 14,600 people.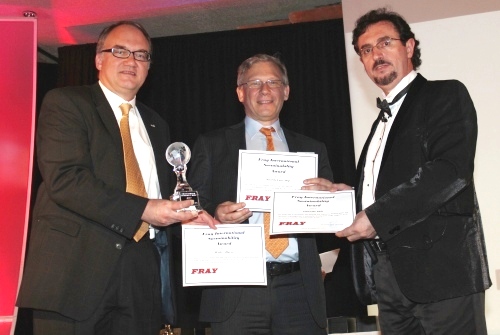 M. Caffarey & M. Van Camp, Receiving the Fray International Sustainability Award from Dr. Florian Kongoli at FLOGEN SIPS 2011
Sustainability Achievements:
Development of a breakthrough technology for lithium recycling batteries
Established challenging Environmental objectives
Reduce carbon footprint:
Aim to reduce our CO2 emissions by 20% vs the level of 2006 and using the same scope of activities as 2006.
Emission reduction
Aim to reduce by 20% the impact of metal emissions to water and air vs 2009 levels.
Product sustainability
Will invest in tools to better understand and measure the life cycles and impacts of our products.