Dr. Florian Spieckermann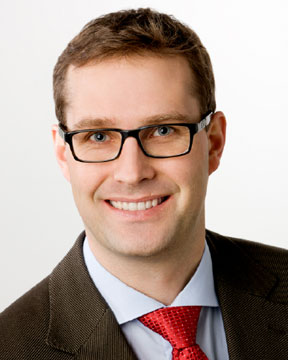 Dr. Florian Spieckermann was born in Gottingen, Germany and grew up in Germany, Austria and Switzerland. He studied physics in Vienna, Austria, where he graduated with a PhD. from the University of Vienna in 2010 under the supervision of Prof. Michael Zehetbauer. His started his professional scientific career as an early stage researcher at the Aristotle University of Thessaloniki, Greece in the laboratory of Prof. Elias Aifantis, followed by a position as University Assistant (assistant professor) at the University of Vienna in the framework of the PhD program "Experimental Materials Science-Nanostructured Materials" headed by Prof. Hans-Peter Karnthaler and Prof. Wilfried Schranz. Post-doc stays at the University of Vienna and at the University of Freiburg, Germany in the experimental polymer physics group headed by Prof. Gunter Reiter followed. From 2015 to 2016 he was working as an Assessor and Inspector for Medical Devices for the Austrian Agency for Health and Food Safety (AGES). In 2016 he joined the Department of Materials Physics of the Montanuniverstät Leoben headed by Prof. Jurgen Eckert as a Senior Scientist.
As a material physicist, Florian Spieckermann's work focused on the deformation and crystallization of semicrystalline polymers including synthetic, biological and also electrically conductive polymers. Furthermore, he was involved in studies on conductive elastomers as well as on metallic and functional alloys with i.e. thermoelectric properties. Recently he extended his research towards metallic glasses with outstanding mechanical and functional properties. His main experimental technique is the in-situ combination of X-ray diffraction with mechanical and calorimetric techniques with high time and reciprocal space resolution. He has authored and co-authored 38 publications (24 peer reviewed) and co-organized several important scientific conferences including the "16th International Conference on Rapidly Quenched and Metastable Materials (RQ16)" held in Leoben, Austria in 2017 and the "6th International Conference on Polymer Behaviour (ICPB6)" held in Vienna, Austria in 2014. During his studies Florian Spieckermann was active as a voluntary paramedic in the ambulance services in Vienna and played rugby in Lausanne and Vienna. As a father of two boys he enjoys spending time in nature with his family and listening to fine baroque music.
CV
Publications
University Portal about the Award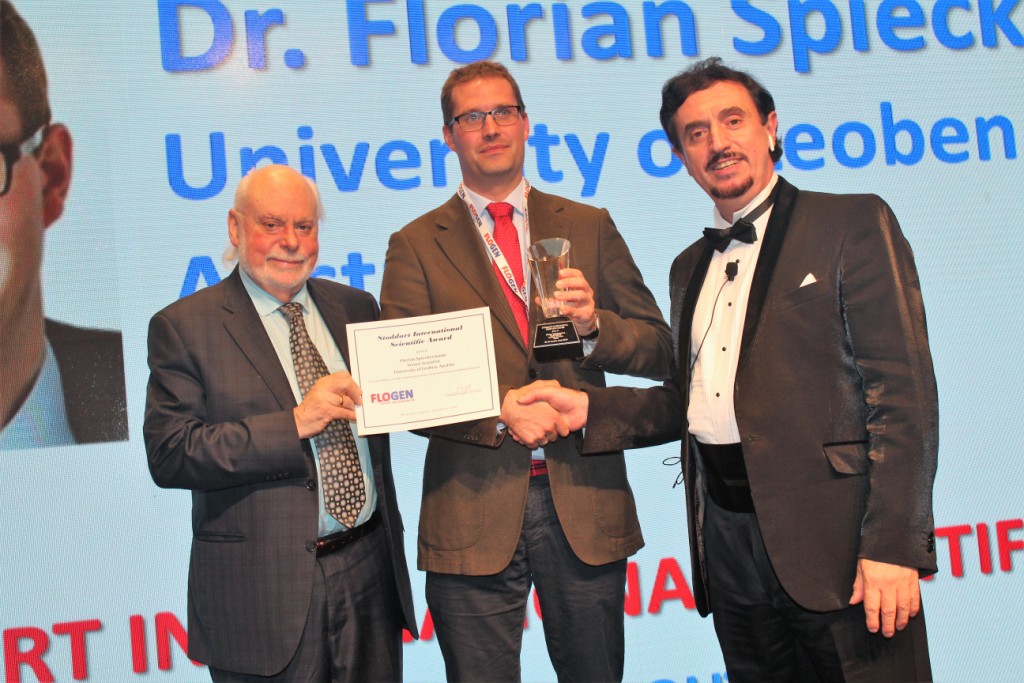 Dr. Florian Spieckermann, Receiving the Stoddart International Scientific Award from Dr. Florian Kongoli at FLOGEN SIPS 2018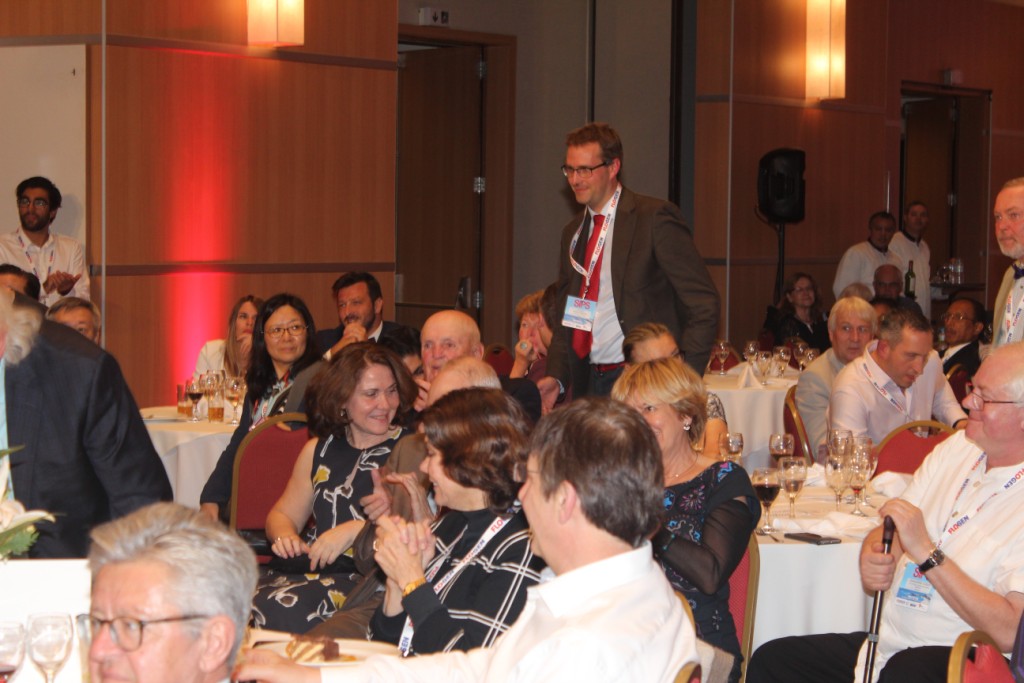 Dr. Florian Kongoli introducing Dr. Florian Spieckermann as a winner of the Stoddart International Scientific Award at FLOGEN SIPS 2018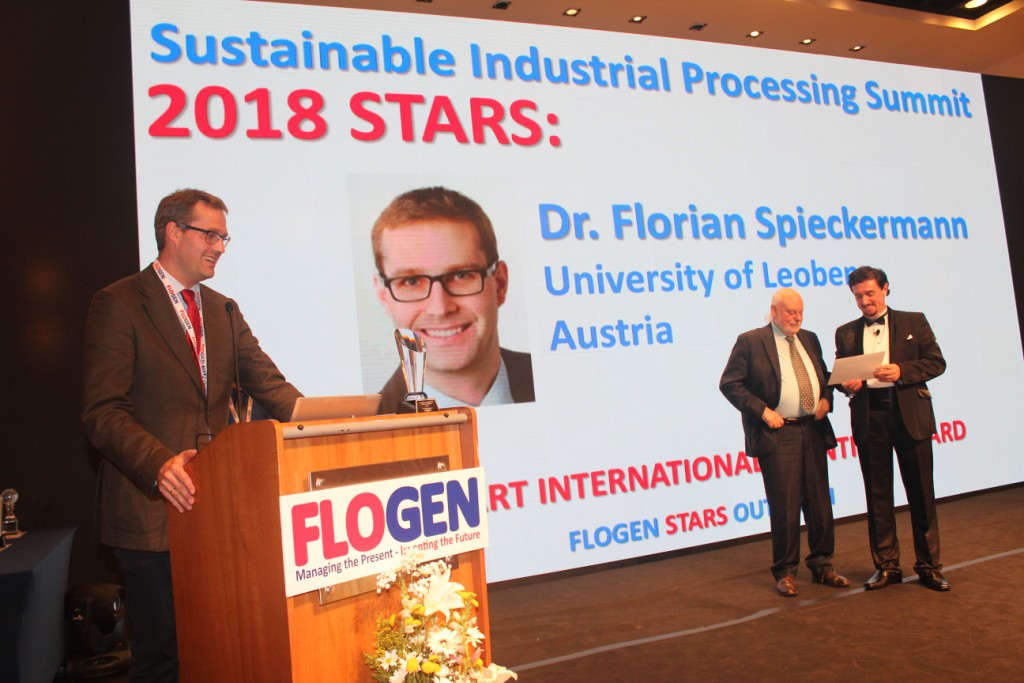 Dr. Florian Spieckermann delivering his acceptance speech to Dr. Florian Kongoli during the FLOGEN SIPS 2018 Stoddart International Scientific Award ceremony

Dr. Florian Spieckermann was the first recipient of Stoddart International Scientific Award at FLOGEN SIPS 2018

Dr. Florian Kongoli along with Prof. Sir Fraser Stoddart (2016 Nobel Laureate) present to Dr. Florian Spieckermann, the FLOGEN 2018 Stoddart International Scientific Award at SIPS 2018

Dr. Florian Spieckermann, winner of FLOGEN SIPS 2018 Stoddart International Scientific Award, in conversation with Dr. Florian Kongoli

SIPS 2018 RIO - DAY 3 - GALA EVENING - DR. FLORIAN SPIECKERMANN